Eukanuba vs Iams: What's The Difference?
If you're a pet owner like me, chances are you've tried a myriad of dog or cat food products in the market. At some point, I was torn at Eukanuba vs Iams.
Both are excellent pet food brands with a long history of excellence in their formulations. But if you need help deciding which one is best for your pet, I'm here to help.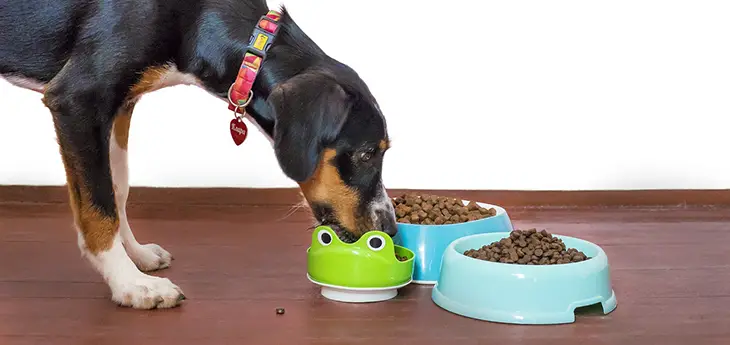 In this article, I discussed a quick comparison of Eukanuba and Iams to help you choose the best one for your pet. Read on to see which one suits your furry friend.
ALSO: check our Eukanuba vs. Pro Plan comparison HERE!
About the Eukanuba brand
The Eukanuba brand was established in 1969 by Paul Iams, the same person behind the Iams brand. Nowadays, both these brands are owned by Mars, Incorporated.
Moreover, Eukanuba focuses on pet food products with athletic formulations. While they have several selections for cats, most of their product line is composed of dog food options.
Eukanuba is one of the most popular pet food brands in the market. Thousands of pet owners trust their formulations of both wet and dry food.
Overall, Eukanuba produces 'science-based' dog food products for active breeds. They have formulations from puppy to senior age.
About the Iams brand
Iams was founded in 1946, roughly two decades earlier than Eukanuba. Paul Iams, the same founder of Eukanuba, conceived the Iams brand to produce quality pet food products.
Moreover, Paul Iams trailblazed the pet food industry by being the first one to consider cats and dogs as carnivores. From there, the entire pet food industry took its cue.
As mentioned earlier, Iams is under the ownership of Mars, Incorporated. It joins the company's roster of pet food brands, including Nutro, Pedigree, Royal Canin, and Evo, to name a few.
Overall, Iams is a highly recognizable pet food brand. They have selections for both cats and dogs, which is specific to the pets' needs.
Eukanuba vs Iams comparison
1. Available food formulations
In terms of product selection, both brands have something to offer. However, it's undeniable that Iams has a significant advantage when it comes to variety.
First of all, I noticed that Eukanuba's selections are focused on dogs. Meanwhile, Iams has an array of formulations for both cats and dogs.
Aside from that, Iams has food formulas based on the pet's age and needs. For example, for cat food, they have specific food products to alleviate hairball, urinary tract problems, and so on.
Meanwhile, Eukanuba's food options primarily focus on canine athletic health. It has high protein and is made to fuel up active dogs.
Nevertheless, both brands have options for all life stages. The right choice depends on what your dog or cat needs.
I recommend consulting a veterinarian if your pet has a lingering health condition or special dietary needs. This is to ensure that your dog or cat is getting the nutrition it needs to stay healthy.
2. Ingredients
Ingredients are often the deal-breaker regarding the right choice of a pet food product. Eukanuba is generally known for quality ingredients, while Iams has a reputation for its natural ingredients.
Let me compare two products from these brands to give you a clearer view. I will discuss the Iams Large Breed Dry Dog Food and the Eukanuba Large Breed Dry Dog Food.
Both these products cater to the same breed size and life stage. However, they have significant similarities in terms of ingredients.
First, both these products are available in lamb and chicken formulas. They also have real meat as the first ingredient.
Aside from that, they have meat by-products in the mix. This is aside from the large portion of grains in the list.
The difference is that Iams use whole grains in their formulations. This is an added benefit, though it may still be an issue for pets with sensitivities to all grains.
In my opinion, Iams and Eukanuba have little difference in their ingredients. Even the nutritional analysis of these two products is extremely similar (more on below).
3. Nutritional analysis
Both Iams and Eukanuba have high-protein nutrition to match growing and active pets.
Most of their dry dog food has protein levels ranging from 20% to 29%. Meanwhile, canned food from these brands also has similar protein content at around 40% to 41%.
Nevertheless, Iams tend to be a tad lower in fat content. Still, the difference is only very significant if you have a pet who is very sensitive to this component.
When it comes to digestive factors, most Eukanuba food products have higher fiber content than those of Iams. So if you're looking for pet food that will firm up your pet's stool, Eukanuba would be a great option.
4. Safety recalls and product safety.
Safety recalls are common practice not just in pet food but in every industry that involves the production of goods. So just because a pet food brand has a recall history doesn't mean they are no longer safe to feed your dog.
Both Iams and Eukanuba have issued recalls before. These are either exclusive to the brand or a major recall that involves multiple pet food names.
Below, I listed a quick rundown of the latest recalls between the two brands:
EUKANUBA
August 2013. This recall involved large batches of puppy and adult dog food products. It's recalled for potential salmonella contamination.
July 2010. Another case of potential salmonella risk led to a recall of three dry dog food batches.
March 2007. Due to melamine contamination, an FDA report caused the recall of Eukanuba canned and wet pouch food products.
IAMS
August 2013. As part of a massive recall in the pet food industry, Iams also pulled out multiple varieties of dog food products from the market.
March 2013. Due to the potential for mold, a recall was done in March 2013 involving the Iams Shakeables.
December 2011. The Iams ProActive Health Puppy Dry Dog Food was recalled due to aflatoxin.
August 2010. Due to a potential risk for salmonella, the Iams Indoor Weight Control with Hairball Care Cat Food was recalled.
July 2010. Batches of the Iams Veterinary Formulas Dry Cat Food were recalled due to a potential risk for salmonella.
June 2010. Batches of the Iams ProActive Health Canned Cat and Kitten Food were recalled due to low thiamine levels.
March 2007. Like Eukanuba, batches of Iams pet food were recalled due to melamine contamination.
5. Price range
Regarding the price range, Iams is the more affordable of the two. For example, the 30-lb. dry dog food bags from Iams is about 40% cheaper than what Eukanuba offers.
This makes Iams a very attractive option for pet owners on a budget. And despite the lower price, Iams still produces quality formulations.
Nevertheless, there's a very good reason behind Eukanuba's higher pricing. This brand focuses on specialized diets, so it's expected to cost more than maintenance formulations typically offered by Iams.
In the end, pricing should be the least criterion to consider when buying a pet food product. The quality of ingredients and nutrition should always come first.
Which one is the best pet food brand?
If you're looking for affordable yet decent nutrition for your pets, Iams will not disappoint. They also have a wide variety for both cats and dogs that Eukanuba doesn't have.
Meanwhile, if you want more precise nutrition for your active breed, you should consider Eukanuba. The only trade-off here is the higher price tag.
Both are great pet food brands. The choice all boils down to what your pet needs and what you prefer in terms of price, ingredients, and nutritional value.
Top 3 Eukanuba Dog Food Products
The Eukanuba Adult Dry Dog Food For Small Breeds is formulated specifically for small dog breeds. It has the wholesome protein of chicken that supports lean muscles.
Also, this Eukanuba dog food is optimized for an active lifestyle with added DHA to boost brain health. So if you have active little breeds like Dachshunds, Pomeranians, or Yorkies, this might be the best food for them.
I also like the proprietary 3D DentaDefense on the kibble. It helps reduce tartar buildup as the dog chews the uniquely shaped pieces.
Overall, it's ideal for small dogs aged 12 months and up and weighing no more than 23 lbs.
The Eukanuba Senior Medium Breed Dry Dog Food is a good option for old medium-breed dogs. It's an excellent diet for doggos over 7 years old weighing around 24 lbs. to 4 lbs.
Like most Eukanuba food products, this senior blend has chicken as the primary source of protein. It's also packed with glucosamine and chondroitin that support an aging dog's joints.
Aside from that, it's rich in antioxidants and DHA for brain health. Its fat and carb levels are also optimized to ensure that it matches an old canine's needs.
The Eukanuba Adult Large Breed Dry Dog Food has lamb as its first ingredient. It's made for large breeds over 15 months and weighing over 55 lbs.
This dog food formula contains 50% more glucosamine to support joint health. Since large dogs put a lot of pressure on their joints, this formulation is a great choice.
True to the Eukanuba brand, this product has the ACTIV advantage. It delivers optimal energy for canines with active lifestyles.
Lastly, this is a good source of EPA and DHA to boost your pet's brain health.
Top 3 Iams Dog Food Products
The IAMS Small & Toy Breed Adult Dry Dog Food has the goodness of real chicken and whole grains. It's rich in fatty acids that boost small breeds' coats and skin health.
Aside from that, this is free from fillers and artificial preservatives. Every bite gives your dog guilt-free nutrition for a very attractive price.
Moreover, this IAMS dog food is 100% complete and balanced. It's also made of wholesome ingredients and quality animal protein.
Overall, this is a great food choice for small dogs, not to mention that the kibble is also small enough for easy chewing.
The IAMS Adult Minichunks High-Protein Dry Dog Food might be a perfect choice for active adult canines. Like the first IAMS food mentioned, this is also made of chicken and whole grains.
Moreover, it supports whole body health, thanks to antioxidants and essential nutrients. It also has added prebiotics and natural fibers to aid with digestion.
Overall, this formula enhances your dog's coat health, digestion, muscle growth, dental health, and immune system.
As a 100% complete and balanced dog food, the Minichunks will be an excellent option for your adult canine. It's made of quality ingredients that even picky eaters will like.
The IAMS Healthy Aging Senior Dry Dog Food is a nutritious choice for old dogs. It's made of real chicken and whole grains for the right balance of vitamins and minerals.
Moreover, this is packed with antioxidants to boost the immune system and DHA Gold to support your pet's mental acuity. It also contains fiber and prebiotics to improve your pet's digestion.
Overall, this has an excellent flavor that will appeal even to picky eaters. It's also an affordable option for pet owners on a budget.
Top 3 Iams Cat Food Products
The IAMS PROACTIVE HEALTH Weight Control and Hairball Care formula is an excellent choice for indoor cat owners. It's designed to help kitties maintain a healthy weight while reducing hairballs.
Aside from that, this cat food has chicken as the main ingredient. It also has turkey for added flavor and a selection of grains.
This high-protein diet is ideal for felines with an active lifestyle. It's also rich in Omega fatty acids necessary for the maintenance of your cat's shiny coat.
You can also get this cat food in salmon flavor, perfect for picky cats. It uses real salmon as the first ingredient, which gives the food a very appealing taste.
The IAMS PROACTIVE HEALTH High-Protein Cat Food provides healthy vitality to active cats. It has chicken as the first ingredient, with a helping of salmon for added nutrition.
Aside from that, this cat food doesn't have soy or artificial preservatives. Every bite is made of guilt-free nutrition for your active kitty.
This is also blended with Omega fatty acids, calcium, and prebiotics for overall health. It's also suitable for both indoor and outdoor cats.
Moreover, this diet improves your cat's digestion, skin, coat, and bones. It's also beneficial for your feline's heart health, making it an excellent maintenance food.
The IAMS PROACTIVE HEALTH Adult Dry Cat Food is available in chicken and salmon varieties. It's nutrient-rich and supports a cat's healthy metabolism and lean figure.
Moreover, this food is intended to help develop strong muscles, healthy teeth, better digestion, and a good-looking coat. It's made for all cat breeds' overall health, indoor or outdoor.
Overall, this is a wholesome diet with 100% complete and balanced nutrition. It doesn't have artificial preservatives or fillers, so each serving contains nutrients.
This might be the perfect formula if you own multiple cats and are looking for a diet they can share.
Conclusion
Eukanuba and Iams are both excellent pet food brands. They have a variety of offers that suit specific needs.
For pet owners looking for specialized diets for their active pets, Eukanuba is a good choice. Meanwhile, for those who want competitive pricing and quality nutrition, Iams is the better option.
Ultimately, it's all about what your cat or dog needs. Just remember that the choice of food should go beyond the brand.
Don't hesitate to consult your pet's veterinarian about the right diet choice when in doubt. The vet is always the best person to consult when it comes to your pet's health and diet.
Written By