5 Best GPS Wireless Dog Fence (Top Collar Reviews)
Are you looking for the best GPS wireless dog fence? If so, you should consider the AngelaKerry 850YD, XFOX GPS Wireless Fence, and the Petector GPS Collar. I also recommend the AngelaKerry EF 815S and OCEVEN GPS Wireless Fence. All of these offer portable and convenient ways to contain your dog anywhere. 
Unlike traditional wireless fences that use radio signals, GPS-powered collar fences use overhead signals from satellites. This is an excellent option if your area has steep hills and slopes. The GPS signal can overcome almost any terrain as long as there are no dense trees or tall structures. Learn Here Best Wireless fence for hills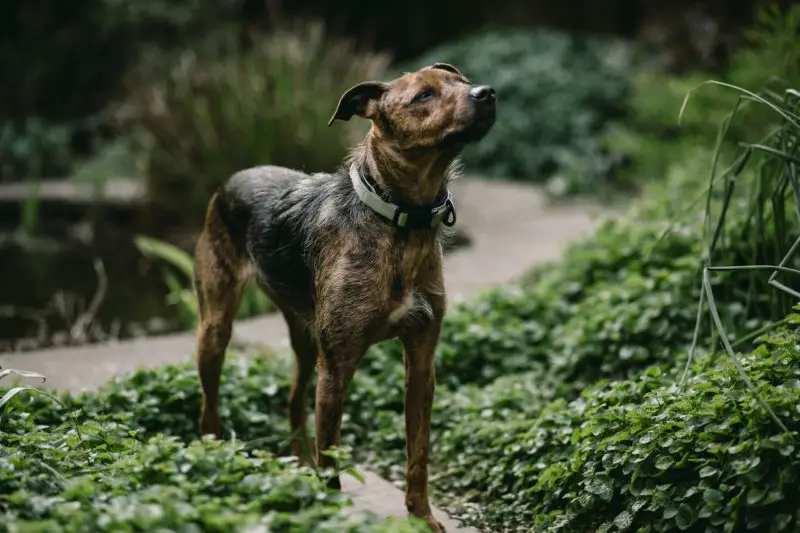 If you're on the hunt for a GPS wireless fence, these five options are excellent investments. 
What is the Best Wireless Dog Fence System with GPS?
If you're looking for the best wireless dog fence equipped with GPS, you should consider the AngelaKerry 850YD. This wireless fence boasts a maximum radial range of 800 meters. It will contain your dog wherever you are with a minimal error of fewer than 5 meters.
Moreover, this wireless fence has a strong anti-interference ability. It can overcome hills and slopes as long as your dog is in the clearing. Unlike radio signals, GPS signals will reduce the likelihood of random correction or warnings.
Aside from that, the AngelaKerry 850YD has an automatic correction cycle. Once your dog goes near the boundary, the collar will emit warning beeps.
But if your dog decides to step out of coverage, he will receive a 20-second static correction. A one-minute shut-off will follow this before repeating the 20-second correction. Overall, this GPS wireless fence will produce three correction cycles to encourage your dog to go back to safety.
Another thing I like about the AngelaKerry 850YD is it doesn't have any transmitter. Instead, you can set the range on the collar, which is equipped with a digital display and setup buttons.
There's also a separate button to adjust the static correction level that matches your dog's sensitivity. Overall, this fits canines that weigh between 15 lbs. to 120 lbs. I also like that the collar isn't too bulky and can fit nicely on our Beagle and puppy Golden Retriever.
Another wireless dog fence with GPS tracking I recommend is the one from XFOX. This model has a maximum radial range of up to 2,625 feet or 800 meters. As a result, your dog can roam a large area safely without being limited on a leash or playpen.
Aside from that, the XFOX GPS Boundary Collar Wireless Fence has five adjustable shock levels. So you can easily choose the correction level that matches your dog's personality and tolerance.
Like the one from AngelaKerry, this GPS wireless fence will emit three correction cycles to push your dog to go back. This prevents overcorrection while giving your dog the chance to return to avoid further shocks.
Moreover, the XFOX GPS Wireless Fence has a built-in rechargeable battery. Each full charge can work for 15 hours, which is more than enough for a day's adventure with your dog. It's also waterproof, so your pet can enjoy roaming around while raining or if there are sprinklers in the area.
To set the range of this GPS wireless fence, you simply have to select the distance you want to use. After that, you just have to long-press the 'P' button in order to 'position' the range. Keep pressing the button until the '00' digits stop flashing. This means that the range has been set, and it's good to go. Learn Here Best Fence for large dogs
The Petector GPS Wireless Dog Fence offers a complete package for training. This comes with a wireless fence collar, 50 training flags, a charger, 4 contact points, a strap, and an English manual. As a customizable GPS dog fence, you can use it at home or in an open area when traveling with your dog.
Overall, this has an 800-meter circular range using stable GPS signaling. You can also utilize the 7 settable correction levels to suit your dog's tolerance. In addition, this is equipped with warning beeps and static shock that will encourage your dog to go back to safety.
Also, this uses an automatic correction cycle to prevent overcorrecting your dog. There are also rest windows to give your pet the chance to run back inside the boundaries before the next correction sets in.
I also like that this collar has a correction-free re-entry. So it will not punish your dog for running back to safety.
Overall, this works in American GPS signaling, and it suits dogs with a neck circumference of 6 to 25 inches. The collar is also waterproof and will continue to work even if your dog is out in the rain.
Aside from that, the collar in this wireless fence set only weighs 19.4 ounces. So it's considerably lightweight for a GPS wireless fence with such a massive range.
My only caveat for this wireless dog fence is it's not the easiest to set up. I can't set the boundaries when I'm inside the house, which is a bit of a bummer when it's very sunny outdoors. Other than that, this is quite a nice GPS wireless fence, especially for traveling.
Another AngelaKerry GPS Wireless Fence I recommend is the EF 851S. This also has a maximum circular range of 800 meters with accurate and on-time correction.
Aside from that, the AngelaKerry EF 851S has a strong signal penetration that works on hills, slopes, and other terrains. The GPS signal also prevents your neighbor's wireless fence from interfering with yours. Even if there are many GPS wireless fences in the area, the signal remains stable and reliable.
This GPS wireless dog collar also comes with an automatic correction cycle. It will emit three rounds of 20-second static correction if your dog steps out of the boundary. Don't worry because each round has a 1-minute pause in-between to give your dog a chance to go back to safety.
Moreover, the AngelaKerry GPS wireless fence can be used on a lakeside, field, hills, mountain, and just about anywhere. As long as there are no major structures or overhead blockages, you can count on this collar to keep your dog within the set range.
I also like the 1-year warranty that comes with this wireless fence. You can also send the unit back within 90 days if you're not happy with its performance. You're entitled to a full refund.
Aside from the collar, you'll also receive four metal contact points, a charger, a LED test light, and an English manual.
My last pick is the OCEVEN wireless dog fence system with GPS. This fence uses a reliable GPS signaling system that will prevent your dog from getting lost. It also boasts of a strong anti-interference feature to prevent random shock or improper corrections.
Also, the OCEVEN GPS Wireless Dog Fence has a safe training mode. It will warn your dog with beeping sounds once it steps out of the boundary. A 20-second static shock will accompany this.
As long as your dog isn't going back within the range, the collar will continue to release the correction. Overall, it will emit three correction cycles, which is more than enough to encourage a stubborn dog to go back to safety.
We tried using this on a plantation near our house. My dog happily ran around, and we didn't experience signal wobble on the maximum 800-meter range. It's also a great choice when taking your dog to the riverside, campground, farm, or just about anywhere with a clearing or open space.
For peace of mind, your purchase of the OCEVEN Wireless Dog Fence with GPS is covered by a 1-year warranty. You're also entitled to a 90-day money-back guarantee if the collar didn't work or if you're not happy with the results.
Overall, this wireless fence is a practical choice if you want to give your dog freedom without getting lost.
How to choose a GPS wireless dog fence?
There are multiple wireless dog fences in the market to choose from. With that, we can't help but ask, what are the best wireless dog fences to buy? When it comes to GPS wireless fences, the following are the things I look for:
Range
GPS wireless fences are known for their massive circular range. Premium models in the market can offer up to 800 meters of coverage. This is an excellent choice if you're planning to take your dog to a massive field of rolling hills.
Aside from the maximum range, you should also check the minimum range setting of the GPS coverage. This will let you contain your dog in a much smaller area in case there are surrounding hazards.
Overall, the range should be adjustable and easy to set up. Just note that you need to be located on the center point of your intended coverage when setting the GPS range.
Operating conditions
One of the biggest challenges of using GPS collars is its operating conditions. It can overcome almost every terrain, but performance will start to vary if there are structures nearby.
Most GPS collars I've bought for my dog need to be set at least 10 meters away from any structure. Also, you have to check if the dense trees cover the sky. If so, the signal may not penetrate as much as it should reach the receiver collar.
Aside from that, most GPS wireless fences may not work at their best during cloudy or rainy days. This is because the GPS satellites are located way above the clouds.
This part is very important to keep in mind so that you can set your expectations properly.
Signal stability
Next, check the signal stability of the GPS wireless fence. For the most part, it should be able to overcome small structures and several trees. Personally, we've tried using GPS collars in the woods, and most of it performed well on areas sparsely surrounded by trees.
Margin of error
The margin of error of a GPS wireless fence refers to the potential inconsistency on the boundaries. Always look for a GPS collar with less than a 5% of margin of error. The lower it is, the better.
I suggest checking the GPS wireless fence first to see how much error there is. This will let you adjust the range accordingly. Based on my experience, the margin of error can be prevented if you don't max out the range of the fence.
Correction levels
Each dog has varying tolerance to the static correction, so the wireless fence you're going to get must-have adjustable intensity. This will let you set the static shock that will encourage your dog to go back to safety.
Always look for a beep mode as well. This will let you train your dog to recognize the boundaries. It will also teach the dog that a static shock will follow if he ignores the sound warning.
Warranty
Last but not the least, always look for a decent warranty on the GPS wireless fence you're going to purchase. This way, you can send the unit back in case it's defective or if it didn't live up to your expectations.
u003cstrongu003eDo GPS dog fences work?u003c/strongu003e
GPS wireless fences work in containing dogs inside a property. Since it uses signals from overhead satellites, GPS wireless fences can offer a wider range and stronger signal penetration. However, you have to ensure that there are no major blockages that can interfere with the signal.
u003cstrongu003eCan a GPS wireless collar work in the city?u003c/strongu003e
GPS wireless collars can work in a city setting. However, if tall and numerous buildings surround the area, signal reception can be erratic. Remember that GPS wireless collars use the signal feed from satellites so that overhead structures can hurt their performance.
u003cstrongu003eIs GPS wireless fence better than traditional wireless fences?u003c/strongu003e
GPS wireless fences are more portable and convenient to use than traditional fences with a radio signaling system. Itu2019s the perfect choice when traveling with your dog. GPS wireless fences are also excellent alternatives if you live in an area with steep slopes.
u003cstrongu003eCan a dog run through a GPS wireless fence?u003c/strongu003e
A dog can only run through and escape the GPS wireless fence if it enters a structure. Once your dog is hidden in plain sight from above, the signal transmission will be cut off. Staying under dense trees can also cut off the signal of a GPS wireless fence.
u003cstrongu003eHow long do GPS wireless fence collars last?u003c/strongu003e
A GPS wireless fence collar will last for years if maintained well. Also, the lifespan of this wireless fence depends on the usage level, weather, and exposure to outdoor elements. Most of the time, the collar strap is the first one to show damages.
u003cstrongu003eAre GPS wireless fence collars reliable?u003c/strongu003e
GPS wireless fences are reliable containment systems. If used on the clearing, this fence will give your dog a wider place to roam without escaping. Still, you should always check the collar to ensure that it has enough battery power left.
u003cstrongu003eAre GPS wireless fences good for acreage?u003c/strongu003e
Yes, GPS wireless fences are good for acreage properties. This is a cost-effective alternative to building a physical fence around the area. Just make sure that you set up the GPS range properly for the best results. Read Here u003ca href=u0022https://petcosset.com/wireless-dog-fence-for-acreage/u0022 target=u0022_blanku0022 rel=u0022noreferrer noopeneru0022u003ewireless Fence for Acreageu003c/au003e
Wrapping Up
The best GPS wireless dog fence is a portable option for containing your dog. Unlike traditional radio signals, GPS works on a variety of terrain. It also boasts of a wider range and reliable correction, all packed on a small collar.
The likes of AngelaKerry, XFOX, Petector, and OCEVEN are just some of the best brands to consider. Do you have anything to add? Share it with us below!
Written By