A Simple Way On How To Block Off A Large Crate For A Puppy
Did you purchase a crate that's too big for your pet? Instead of going through the hassle of returning it, you can try a way on how to block off a large crate for a puppy.
Overall, sectioning or blocking off a large crate to suit your puppy is fairly easy. Still, it's important to understand why size matters and how you can use dividers safely.
Read on and see if my method below will also work for your pup. Feel free to share your own method in the comment section for other pet owners to see!
Does crate size matter for your puppy?
The size of your puppy's crate is very important. It will dictate how effective it will be in keeping your pup calm and in making housebreaking easier.
Basically, the crate should have enough room for your pup to stand, sit, lie down, and turn around. While getting a large crate may sound fine, there are a few problems associated with it.
First, a very large crate will defeat the purpose of housebreaking.
Dogs don't soil their sleeping quarters. But if there's spare space in the crate for them to defecate or urinate, they will not hesitate to relieve themselves.
Another problem with a crate that's too large is it will make a dog's denning instinct impossible. Dogs in the wild sleep in cramped spaces to avoid predators, which is why properly sized crates give a sense of security. Read also my article about why dogs won't leave a crate.
Nevertheless, most pet owners aren't fans of purchasing a new crate once their puppies have grown. The good news is that there's a trick to solve this problem.
Technically, you can buy a crate that suits your dog's adult size. However, you'll have to use dividers to make it smaller, so your puppy will feel safe inside it.
How to make a large crate smaller for a puppy
If your pup's crate is too large for its size, the best solution is to install dividers inside it. This will help narrow down the space without having to return the crate or refurbish it.
Here are the simple steps in making dividers for your puppy's crate:
Step 1. Collect your needed materials
First, you need cardboard to serve as the main material for the divider. If your dog is a chewer, you can switch to plywood or a piece of flat iron sheet.
Aside from that, you'll need pliers, a cutter, scissors, a marker, and a tape measure. If you're using plywood or an iron sheet, you need a saw to cut it out.
Once you have all the needed materials, you can move to the second step.
Step 2. Measure the crate's interior
The next step is to measure the crate's interior. Basically, you need to measure the width and height of the crate, so you can cut the right divider size.
Step 3. Cut out the divider
Once you have the measurements, you can now trace them to your divider material. You can use the tape measure and marker for this part.
If you're using a flat iron sheet, you should add a small allowance since you need to fold the edges away from your dog. This is to prevent the canine from getting injured, especially if it's fond of escaping.
Step 4. Secure the divider inside
After that, you can now secure the divider inside the crate. You can punch holes on each corner of the divider, so you can secure it inside using wires.
Make sure that you secure the divider on the bars of the crate, so it remains stable. If you're worried about the sharp tips of the wire injuring your dog, you can use cords instead.
However, cords aren't ideal if your puppy is a chewer.
Step 5. Check for sharp edges
Lastly, you should check for any sharp edges that could hurt your dog. Simply run your fingers throughout the edges of the divider and the wire you used for installation.
Take note that even a small sharp surface can hurt a dog. It can poke the canine's eyes or scrape its skin.
How do I know if my puppy's crate is too big?
If there's enough space for your dog to defecate inside the crate without messing its bed, that means the crate is too big. To avoid this from happening, you should measure your dog before purchasing a crate.
So if your puppy is 10" tall, you need a crate with a maximum height of 14". In general, the width and length will be proportional to this measurement.
When should I make my puppy's crate bigger?
The decision to expand your dog's crate depends on two things: its size and its potty training.
Puppies will eventually grow fast, especially those who are from large breeds. So once your dog can no longer sit, stand, or lie down properly inside the crate, that's the time you need to make the crate bigger.
If your dog is in the small range, you should only expand its crate if it's fully housebroken. Even so, you should avoid making the crate too big.
You can either upgrade to a new and bigger crate or simply remove the dividers you placed. If your pooch starts to have accidents inside the crate, you can put the dividers back.
Can my dog have two crates?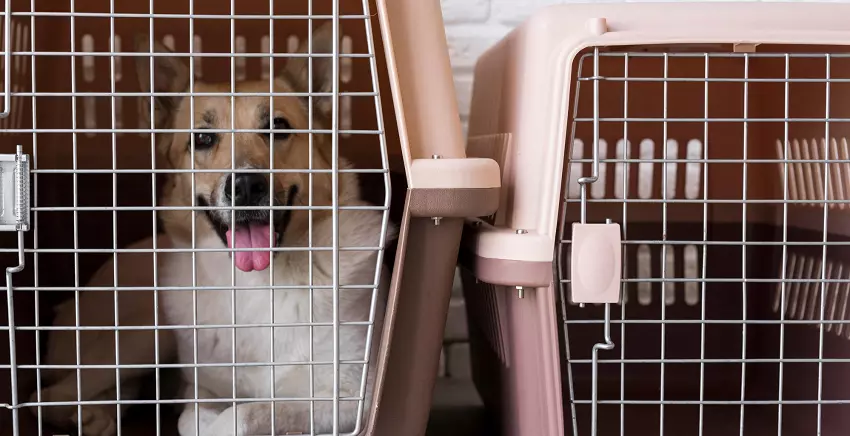 It's fine to set two crates for your dog, but make sure that you assign each one for specific purposes.
For example, one crate is for its sleeping quarters and the other one is for the living room. This will prevent confusion and it will also keep your pup relaxed.
Other pet owners use one crate for home use and then the other one for traveling. Overall, it depends on what you prefer and how your dog reacts to the two crates.
Is getting a larger puppy crate a good choice?
Bigger isn't always better when it comes to dog crates. The excess space will sabotage your house training and it will also make your pup more nervous.
If you happen to purchase a larger crate, you can use dividers to accommodate your pup. After some time, you can remove the dividers once your dog outgrew the small space.
While bigger crates aren't ideal, a very small one isn't good either. A very cramped space is uncomfortable and it will make your puppy throw a tantrum inside the crate.
Overall, you should measure your dog and consider how fast it will grow. From there, you can get a crate that matches your pup.
Conclusion
Knowing how to block off a large crate for a puppy will save you from the hassle of returning the unit or buying a new one. Just make sure that you use safe materials that will not harm your dog.
Remember that aside from getting the proper size, crate training is also an integral part of utilizing this item.
Written By