3 Safe Methods on How To Transport A Dog in a Truck Bed
According to American Humane, about 100,000 dogs die each year due to truck bed-related accidents. The numbers alone prove that it's important to know how to transport a dog in a truck bed safely and correctly.
However, transporting dogs in truck beds poses several problems. First of all, it has a slew of safety issues, but they can be reduced through the proper methods.
Below, I discussed three methods I swear by if you badly need to transport your dog through your truck bed. See which one works for you best:
3 Safe Methods to transport your dog in a truck bed
1. Transporting using a dog crate
The best and easiest way to transport your dog in a truck bed is to put him in a crate. You can easily purchase a budget-friendly crate suitable for short to long-distance travel.
Wire crates are affordable, and it's also easy to fix into a truck bed. You can also purchase airline-approved crates for better protection for your dog. Read also my article about why dogs won't leave a crate.
No matter which crate you choose, always make sure that the size fits your dog well. It should be spacious enough for your pet to sit, stand, turn, and lie down.
Keeping a dog in a cage will prevent it from jumping off the truck or getting tossed around on the road. However, make sure that you schedule stops now and then for potty and meal breaks.
Others use a large dog travel bag, but it won't protect against intense sunlight, rain, snow, and other outdoor elements.
Aside from using a dog crate, it's also important to properly tie it down into your truck. The last thing you want is your dog rolling on the highway inside a crate. Please read my article puppy throwing tantrum in the crate.
To secure the crate, you can use two ratchet straps attached to each side of the top crate handle and into your track. You can use four straps on each corner for better stability for larger kennels.
2. Transporting using a dog box canopy
If you want the safest way to transport your large dog in a truck bed, you should consider investing in a dog box canopy. This is much bigger, tougher, and more secure than typical travel crates for dogs.
Dog box canopies are made of premium aluminum. It can withstand the toughest outdoor conditions and longest travels.
Aside from that, dog box canopies have welded seams to prevent large canines from escaping. Don't worry because this kennel remains breathable and comfy for dogs.
Moreover, box canopies for dogs have whale locks, which prevent dogs from fiddling with the enclosure. Its doors use gas struts and a full-length piano hinge for ease of use.
Dog box canopies are made for large dogs, and it's designed to fit in any truck bed. You can also find dog boxes with reinforced roof bracing, weatherproofing, and handle locks for added protection.
If you're going to ask me, nothing beats a dog box in keeping a canine safe while traveling. This is whether you're visiting the best places to travel with your dog in California or other distant places.
3. Transporting with a tether
The truth is that not all of us have a crate or dog canopy handy at all times. With that, we might be forced to transport our dog in the truck bed with little to no support.
In this case, the least you can do is tether the dog to your truck bed. Take note that this should be your last resort, much so for long-distance travel.
For this, your dog should be wearing a harness, not a collar. This way, even if you make sudden stops and turns, your dog won't be choked. Read more here: How To Make A Dog Harness: DIY Guide
Also, you should always use two tethers to secure your dog on both sides of the truck bed.
It's also important to keep the tether short and slightly snug. This removes any excess room for your dog to move or get tossed around while traveling.
No matter what happens, never put your dog in your truck bed without any form of restraint. Even if your pet is well-trained, loud honking, high speeds, inclement weather, and other elements will put the dog's life at risk.
Truck safety measures for dogs
To ensure that your dog will be safe in your truck bed, here are additional safety measures you need to take:
1. Never transport your dog without any restraint.
Putting your dog in your truck bed without any form of protection will prove catastrophic on the road. Your dog can be thrown off the track if you make a sudden stop or turn.
Worse, your dog will be severely injured or killed if you figure in an accident. When that happens, you'll be faced with a hefty vet bill and a potential lawsuit.
2. Never put your dog on a leash in a truck bed.
While a leash may look like an easy solution to secure your dog, it will do more harm than help in a truck bed. Your dog can get strangled to death in case it falls off the truck.
You should use a harness with multiple strap connections as much as possible. Still, this method isn't the best solution as it still exposes your dog to various outdoor hazards.
3. Don't put your dog in a truck bed when it's too hot.
Even if you're using a dog box or crate, it's not a wise choice to transport your dog in a truck bed in the middle of a summer day. Your dog can overheat and die, much so if it's a brachycephalic breed.
Instead, you should time the transport on cooler days of the year. If that's not possible, you should consider using a climate-controlled vehicle to ensure your pet's safety.
4. Schedule potty breaks during your trip.
For long-distance transport, it's important to schedule multiple breaks along the way. This way, your dog can eliminate, eat, and drink.
Also, you should know that dogs are prone to motion sickness. So it's best to prepare them for the long trip by taking short drives around the neighborhood weeks before the transport.
5. Check your dog's health before the trip.
Before leaving, it's best to bring your dog to the vet for a general examination. This way, you'll know if your pet is physically fit for the long-distance trip.
If the vet raised a health problem, it's important to get it treated first. This is much so if the issue is respiratory-related or something the vet deems to be risky for traveling.
Is it illegal to transport a dog in a truck bed?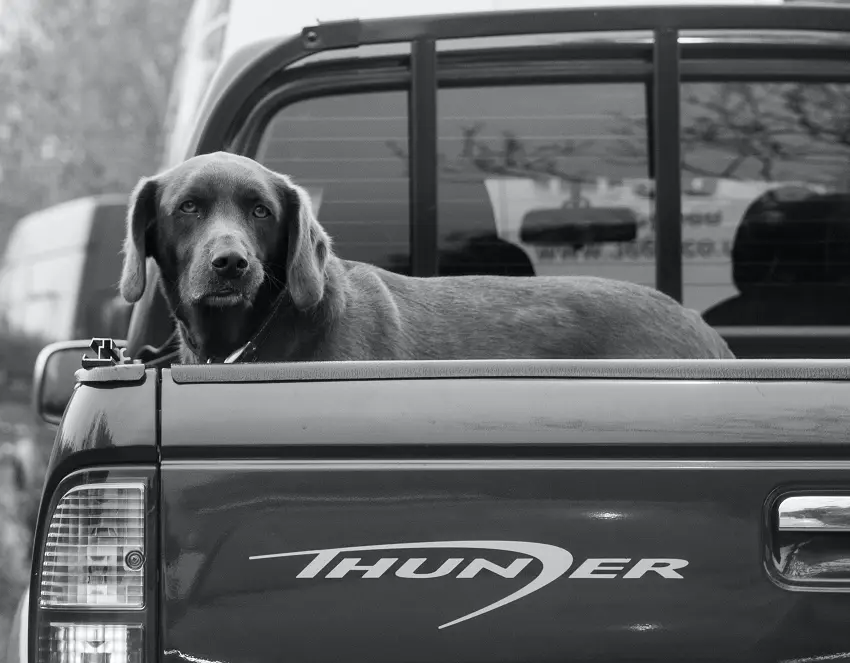 Each state has its own regulations when transporting animals using a motor vehicle. While there's no specific law prohibiting insecure animal transport in a truck bed, federal animal cruelty laws may come after you.
Should your dog suffer from any injury or get exposed to hazards in a truck bed, you can be held legally responsible. You'll be slapped with fines and serious jail time.
Is it safe to drive with a dog in my truck bed?
Transporting your dog in a truck bed is safe as long as you use the right method. Ensure that you keep your dog inside a crate or dog box to shield it against outdoor elements.
Aside from that, you should factor in the weather and your dog's health. This way, your pet won't suffer along the way.
Overall, you must ensure that the crate or dog box is secured and won't slide on your truck bed. A cross-tether and harness will do the trick here.
How can I keep my dog warm in a truck bed?
If you're transporting your dog on a cold day, you can use insulated crate covers. This will help keep your pet warm but ensure that there's still ventilation for proper breathing.
However, if the temperature is below 70 F or above freezing, you shouldn't transport your dog in the truck bed. Instead, it would help if you opted for an enclosed vehicle to keep your pet warm.
Conclusion
Knowing how to transport a dog in a truck bed is a matter of safety. The best method is using a dog box canopy for optimal protection, especially for long-distance travel.
When it comes to your dog's safety, you should never compromise. It's best to err on the side of caution instead of facing legal obligations and putting your dog's life at risk.
Written By