JUSTPET S9 Portable Wireless Dog Fence For large Area (Review)
Are you looking for the best wireless dog fence for large area? If so, you might want to try the JUSTPET S9 Portable Wireless Dog Fence. It boasts up to 1,000 feet of maximum range but in a smaller package than what the JUSTPET Vertical Fence has to offer.
We're always asked for portable recommendations whenever we're scouting for wireless fences for our clients. As a hobby contractor for wireless fence installation, we recently added this model to our recommendations list.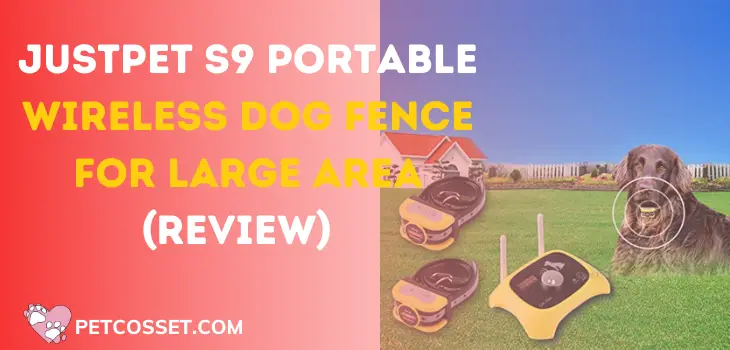 So far, we've installed one S9 in a large acreage in Calgary. Below, I will share how it went together with the experience of our client.
Like the other JUSTPET Wireless Fences, the S9 is relatively new in the market. This is if we're going to compare it to the likes of PetSafe or wired versions from SportDOG.
For the JUSTPET S9 Wireless Fence, portability is the name of the game. Its transmitter is more of a remote controller due to its compact size. It measures 130 mm x 120 mm, which isn't that far from the size of a smartphone.
Meanwhile, it's bundled with a standard collar that's 35 mm thick and 60 mm wide. It's suitable for most medium to large breeds, though it may look a bit bulky for small breeds like Maltese or Pomeranian.
The range is one of the biggest selling points of this wireless fence. For a maximum range of 1,000 feet, it's already mind-blowing for its price and design.
The transmitter and the collar pair automatically, making them easy to use. During our installation, it only took us 30 minutes to set the range, test the collar, and get the dog outdoors.
Overall, this wireless fence system is fairly simple, but there are some pros and cons that I weighed below.
What's in the box?
1 x transmitter
1 x receiver collar
2 x power adapters
2 x charging cables
4 x contact points (prongs)
2 x mounting screws
14 x training flags
1 x test light tool
1 x user manual
Key features
For the JUSTPET S9 Wireless Dog Fence, the following are some of the key features you'll find useful:
Pre-determined range increments. The S9 has pre-determined range adjustments that make it easy to set up. You can use it in 10 to 1,000 feet of circular boundary to suit your needs.
Automatic correction cycle. Like the one from OKPET and the JUSTPET Vertical Wireless Fence, this one utilizes an automatic correction cycle. It has a tone warning and a static shock correction once the dog steps out of the boundary.
Waterproof receiver collar. The receiver collar on this wireless fence is IP65 waterproof. Your dog can swim and get caught in the rain without compromising the correcting functions of the collar.
Two chargers. I also like the fact that JUSTPET included two chargers on this package, so the transmitter and collar won't have to share one.
Wireless transmitter. Like the receiver collar, the transmitter is also wireless. This means you can use it while camping, traveling, or training your dog in the middle of a large area. please read here tips for overlanding and camping with your pet
What we like
For the JUSTPET S9 Wireless Fence, the first thing that really sold it to our client is the compact size. It's very portable that you can carry the transmitter around with one hand. And with such an excellent range, this design is really impressive.
To be honest, we didn't need the mounting screws included in the package. We decided to place the transmitter by the windowpane of our client's house. It worked seamlessly since there are no trees or major blockages that may impede the signal.
Moreover, we also like that the dog won't receive random corrections when the transmitter was turned off accidentally. This is a very important feature since the transmitter is rechargeable and can be battery-drained anytime.
Aside from that, the transmitter has a digital display, which shows the current range being used. It's added convenience if you don't like guessing the boundaries.
The collar strap of this system also has reflective trims, which are the same ones you can find in the JUSTPET Vertical Wireless Fence. This is added safety, especially if you're letting your dog out at night.
Lastly, this wireless fence is more affordable than other options, even the JUSTPET Vertical Wireless Fence. For dog owners on a budget, this a decent choice for your first wireless dog containment system.
What we don't like
If there's one thing I'm not impressed about, it would be the non-adjustable correction levels of JUSTPET S9. There's no way to tweak the correction intensity, so you're stuck with the same shock level for any dog. This can be a bit problematic for small dogs that are very sensitive to the static charge.
The user manual – which is something that's consistent with the JUSTPET product – is not helpful. The instructions are vague, and it's much easier for me to just fiddle with the components until I figure out how it works. If you're completely clueless as to how wireless fences work, this might become an issue.
Also, there's no customer hotline to call in case you need help with the product. While I understand that this is a cheaper system than most, I still expected some sort of a helpline. Basically, you're on your own once you purchase this product.
Lastly, I don't think this would work on areas with steep slopes. Aside from that, the correction level might be insufficient if you have a stubborn, large dog to contain.
Wrapping Up
The JUSTPET S9 Wireless Dog Fence is a decent option if you want a portable design with a massive range. It worked just fine for our client, but not without some downsides.
It's very important to assess your property, your dog's sensitivity, and how long you want the wireless fence to last. In my opinion, the JUSTPET S9 is more of a temporary solution until you can afford better systems like the models PetSafe offers.
Overall, for this price, I can say that the features are already reasonable. It just happened that there are some major tradeoffs to consider.
Written By