OKPET Vertical Wireless Dog Fence For 2 Dogs (Review)
Finding the best wireless dog fence for 2 dogs can be tricky, especially if you're looking for a portable option. If you're not a fan of PetSafe's bulky transmitters, you may have better luck with OKPET Vertical Wireless Dog Fence for 2 dogs. This sports a small transmitter that packs a massive 1,000-feet circular range suitable for large properties.
In this quick review, we look at the features of this wireless fence for 2 dogs and why it might be the best pick for your dog.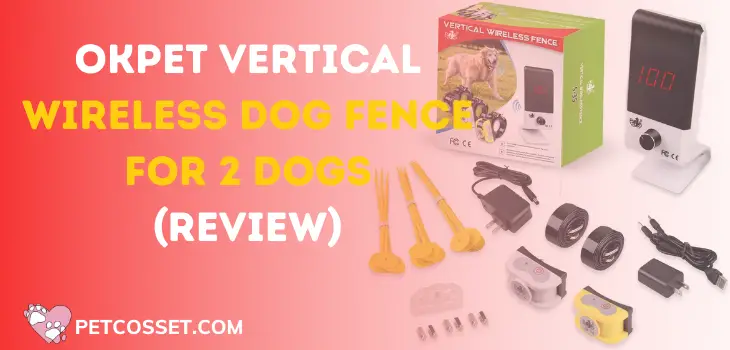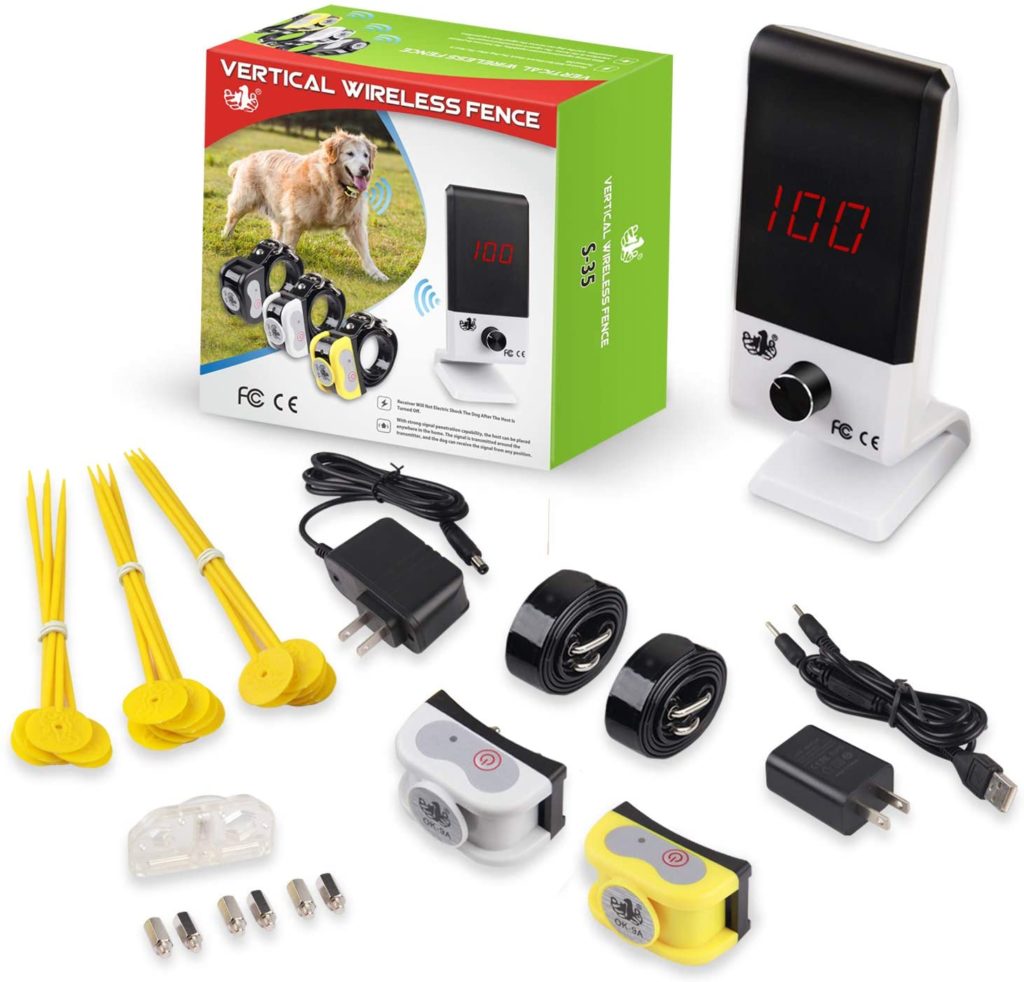 The OKPET S-35 Wireless Dog Fence is one of the newest models in the market. We first encountered this product in late 2020, when a friend asked for a recommendation. He has multiple acreage properties in Calgary, and he asked us to help find and install a portable wireless fence for his two dogs.
On the surface, OKPET S-35 is far from the PetSafe wireless fences we got used to. The transmitter looks like one of those classic computer side speakers back in the '90s but thinner.
The collars are pretty standard and adjustable to suit small to large breeds. However, I noticed that the collar itself is quite bulky when placed on a small dog, say a Pug or a Shih Tzu.
At first, we're quite nervous if this wireless dog fence system will work. Our friend let us in his property, and we installed everything. Overall, we're pretty surprised with the results (more on it below).
What's in the box?
1 x transmitter
2 x receiver collars
2 x power adapters
1 x test light tool
2 x collar chargers
4 x conductive prongs
2 x mounting screws
1 x English manual
Key features
For the OKPET S-35 Wireless Dog Fence, the following are its surprising key features:
Large coverage. This wireless fence boasts up to 1,000-feet of circular range. Even if you're still stuck at a dome-shaped boundary, this is considered a champ for its size and price.
Strong signal penetration. While this uses the same radio signaling of brands like PetSafe and JUSTPET, the OKPET S-35 has top-notch signal penetration. I can say this because the transmitter is installed inside the house. Despite the walls, it was able to emit a stable signal outside. You can also use two transmitters for big houses.
3 correction modes. One of my favorite features of this wireless dog fence is its 3 correction modes. It uses the standard tone mode and static mode but with the added vibration stimulation. This makes the wireless fence suitable even for eager canines.
Digital transmitter display. Adjusting the range on this wireless fence is made easy, thanks to the digital display on the transmitter. It has pre-set increments to take the guesswork out for you. I find it pretty nifty, to be honest.
Made for two dogs. The OKPET S-35 is bundled with two receiver collars. You no longer have to spend additional money to get the second receiver.
What we like
First of all, I'm quite impressed with how compact and portable this wireless fence. My friend was able to move the transmitter around the house without having to do any laborious installation.
Also, the range is easy to adjust on the go. There's a knob on the transmitter that you simply have to turn to set your desired boundaries.
My pal also likes the automatic correction cycle, which uses the vibration and tone mode as a warning to your dog. A static shock will follow it if the dog goes past the boundary. Lastly, the tone mode will keep sounding off to encourage the dog to go back.
If you're planning to travel with your dog, I highly recommend the OKPET S-35. It's very easy to set up, even if this is your first time using a wireless dog fence.
Aside from that, we like the collar strap material, which stays snug even if the two dogs wear it for hours. It's also easy to clean since it's not one of those fabric straps PetSafe uses.
The receiver collars of this OKPET wireless fence are waterproof. However, my friend noticed that the static charge tends to be slightly stronger when his dogs are wading in the acreage pond. It's not causing injuries, but it's something worth noting if you plan to use this fence.
What we don't like
While the OKPET S-35 works on my friend's acreage, we noticed a few issues.
First, the correction level isn't adjustable. I find this quite a big deal, especially if you have two different dog breeds.
Sure, the correction cycle is automatic, but I just wish they made it possible for users to tweak the shock level. For this price range, this is something I expect would be possible to do.
Overall, my friend didn't see burns on his dog's neck. The canine seems to be responding well to the fence as well. However, it may not be the case for dog owners with small breeds. Please read here what is the calmest dog breed
Another thing, which may sound quite nitpicky, is that the English manual needs improvements. I read it once, and I decided to just trust my knowledge in installing and using wireless fences.
The instructions are quite vague, which may confuse some users. I suggest that you just look up some general instructions on the internet and you'll be good.
Just like other radio signal-powered wireless fences, the OKPET S-35 is sensitive to large obstructions and metal objects. If you have these inside your home, I suggest placing the transmitter by the window instead. This will give a stronger signal while eliminating boundary wobble.
Wrapping Up
The OKPET S-35 is probably the best wireless dog fence for 2 dogs if you consider portability paramount. It has an impressive range and a compact design that will suit travelers and those who don't want the hassle of bulky base units.
Still, it's important to weigh the downsides I discussed above. Such points will affect how well the wireless fence will work for your dog. But to be fair, all wireless containment systems have their own share of disadvantages.
What do you think of the OKPET S-35 Vertical Wireless Fence? Share your thoughts below!
Written By