Pawpular Wireless Dog Fence For Hills (Review)
When it comes to portability, Pawpular Wireless Dog Fence is on the frontlines. Many believe that this might be the best wireless dog fence for hills, given its range, portable design, and signal penetration.
In this post, I will share our experience installing the Pawpular Wireless Dog Fence in an acreage here in Calgary. Overall, this system works, but I have strong reservations about its features and overall functions.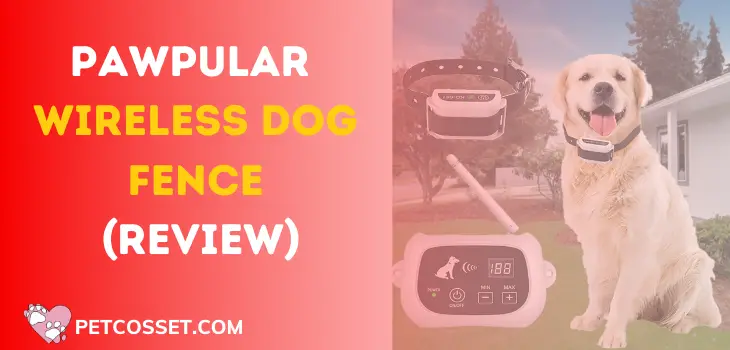 Read on and see if this is the right fence for your property:
Like the newcomers OKPET and JUSTPET, Pawpular joins the ranks of new wireless dog fence brands. We encountered this product online early this year when our client purchased it for his hilly acreage.
With this size, I won't deny that I have second thoughts over its reliability. It's reminiscent of the JUSTPET S9, given the size of the transmitter. If we are to compare, the size is between that of a smartphone and a small tablet.
The main selling point of the Pawpular Wireless Dog Fence is its massive range. It promises to deliver up to 1,640 feet (500 meters) of signal penetration with a minimum range of 82 feet (25 meters).
It also offers excellent controls to users, not to mention its affordable price. Still, this system isn't perfect, and it sure comes with serious disadvantages. Below, I outlined these points to guide you on your purchase.
What's in the box?
1 x transmitter
1 x receiver collar
1 x neck strap
1 x charging cable
1 x power adapter
4 x contact points (prongs)
1 x user manual
Key features
For the Pawpular Wireless Dog Fence, the following are some of the key features we like:
Massive range. For a compact wireless dog fence, a maximum range of 1,640 feet is a champ. This allows you to set a bigger area for your dog without the need to add a second transmitter.
Automatic correction cycle. The Pawpular Wireless Dog Fence has a pre-programmed correction cycle to prevent over-punishment on the part of your dog.
Digital display. The transmitter of this wireless fence has a digital display that projects the current range. You can easily adjust it using the plus and minus buttons. It's pretty straightforward that even our client found it worthwhile to use.
Waterproof collar. While this is pretty standard on all wireless dog fences, I still want to highlight that the collar can endure rain, snow, and bodies of water. It's something to note since this set is very affordable.
Compact design. If you don't want the bulky transmitters of PetSafe, this is the ultimate choice. The transmitter is small, rechargeable, and can be carried around in one hand.
Dual voltage. I also want to highlight that the power adapter on this wireless fence works in 110V and 240V outlets. If you're traveling with your dog, this is surely an excellent choice for a portable wireless fence.
What we like
The first thing that I really like about the Pawpular Wireless Dog Fence is its small transmitter. We have many clients before asking for portable recommendations, and this fits the bill. With this, you can train your dog in the middle of a field and just about anywhere.
Another thing that I like is the massive range. I have to warn, though, that this wireless fence has a higher margin of error. I suggest avoiding maxing out the range to prevent this boundary wobble.
Our client was also impressed by the simple controls on the transmitter. If you're looking for your first wireless dog fence, this might be the best option. It has less guesswork than JUSTPET or OKPET, in my opinion.
Aside from that, you can connect a second collar on the transmitter if you want to contain multiple dogs. You need to purchase the second receiver separately, but it's just a small niggle considering the price of this system.
The rechargeable collar and transmitter are also excellent features. Both charge for 2 to 3 hours and last for a few days, depending on how long your dog stays outside. In our client's experience, the collar lasted for 3 days when he let this dog roam outdoors for 6 hours a day. please read here Wellturn dog fence for large range
What we don't like
When it comes to the aspects we don't like, the first thing to come to mind is signal stability. This works, but if your area has very steep hills, the signal may be erratic. Any uneven ground that's steeper than 3 to 4 feet can be a challenge to cover.
Aside from that, I don't see Pawpular Wireless Dog Fence as a permanent solution for a large area. Nevertheless, it's affordable and is already a decent alternative if you're on a budget. But if you want something that will last for years, you'll have better luck with brands like PetSafe, SportDOG, or Extreme.
Another thing I'm really salty about is that there's no way to adjust the correction level of the collar. While it cycles and increases automatically, I just wish it's possible to tweak it manually.
But then again, we go back to the affordable price, so I think the adjustability part is a reasonable tradeoff. However, it can be an issue if you have a stubborn dog that can cover a lot of distance even before the stronger correction kicks in.
Lastly, customer service isn't stellar, and I can't find any number to call. Nevertheless, the manual is helpful, unlike the one you'll get from the JUSTPET models.
Wrapping Up
The Pawpular Wireless Dog Fence offers portability and massive range in a small package. It's a budget-friendly choice for those who are looking for a temporary solution. Overall, the Pawpular Wireless fence bears features that make it the best wireless dog fence for hills. However, it's not the strongest suit for very steep slopes.
As with any wireless fence, there are some pros and cons to weigh here. Depending on your expectations, the Pawpular Wireless Fence may or may not be the best choice.
What do you think of this review? Have you used the Pawpular Wireless Dog Fence before? Share your experience below!
Written By