PetSafe PIF-300 Wireless 2 Dogs Containment System (Review)
Over the years, the wireless dog fence market has seen the rise of various models. But if there's one model that really stood out, it would be the PetSafe PIF-300 Wireless Containment System. Dubbed by many pet owners as the best wireless dog fence system for 2 dogs, PetSafe PIF-300 offers reliable signal and durability beyond the price.
Below, I outlined a quick review of this wireless fence model and why it might be the right pick for your pet.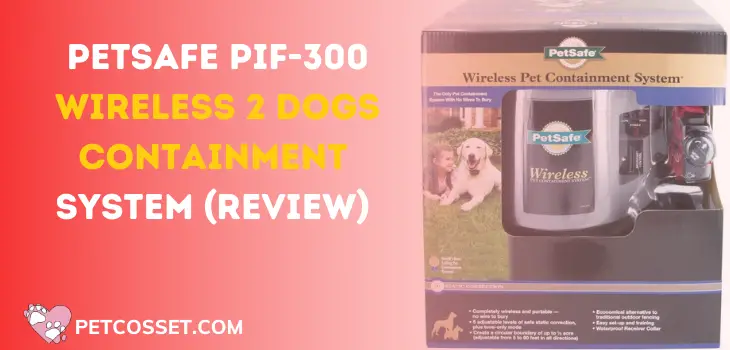 PetSafe started making pet containment systems back in 1991. And in December 2002, they released the PIF-300 model. It's a wireless system with half an acre circular coverage with a portable indoor transmitter.
It became a big hit, with thousands of units sold to date. The PetSafe PIF-300 became a convenient alternative to electric fences where you have to bury wires.
Moreover, the PetSafe PIF-300 uses a radio signaling system that allows you to create a dome-shaped virtual boundary for your dog. The best part is that you can connect unlimited collars to one transmitter. This way, you can contain multiple pets without purchasing separate systems for each one.
What's in the box?
Transmitter
Receiver collar
1 x RFA-67 battery
Marker flags
Contact points (prongs)
Power adapter
Test light tool
User manual
Key Features
With the PetSafe PIF-300, you're going to enjoy the following benefits:
Static-free reentry. One of the best things about PetSafe is they programmed the PIF-300 not to correct your dog once it re-enters the boundary. This prevents dogs from getting confused signals while cutting the risk of runaways.
Expandable range. The PIF-300's range can be doubled by syncing a second transmitter to your base unit. Just make sure that their signals are overlapping to prevent boundary wobble.
Customizable correction. While PetSafe PIF-300 doesn't have a vibration mode, it uses tone and static corrections. The static correction is adjustable in 5 different levels to suit the personality of your dog.
Easy to set up. With our experience, it only took us less than two hours to set up everything. We get to train our dogs right away upon testing the collar and setting the range.
Waterproof collar. The receiver collar in the package is waterproof and compatible with dog neck sizes between 6" and 28". This collar is also compatible with all PetSafe Wireless fence transmitters.
Unlimited collar connection. Whether you have one dog or a dozen, the PetSafe PIF-300 is equipped to contain them all. You just have to purchase the additional collars.
What we like
What we like the most about the PetSafe PIF-300 is the signal stability. Sure, it's not the biggest in terms of acreage, but we're impressed with how well it can hold the set range. Our dogs can roam our yard without escaping.
For homes with multiple dogs, this wireless dog fence system is a money-saver. The upfront cost isn't the cheapest, but it will be less expensive in the long run if you're connecting a dozen receiver collars. You simply can't beat that value.
When we first bought this PetSafe wireless fence, we're fostering a Greyhound dog. And if you don't know it yet, this breed is born to run. Throughout the fostering period, the Greyhound pup will try to chase after rabbits and squirrels only to run back once he hears the warning beep.
All we had to do was follow the simple training guide and our dog caught on real quick. It might be a matter of how easy to train your dog is, but I'm pretty sure any breed can learn this fence quite easily.
We also like how well this PetSafe fence works for stubborn dogs. While we had to use the highest correction setting, it did the job well without leaving burns on our dog's neck.
Lastly, we have to commend the customer care of PetSafe. They have U.S.-based agents who can walk you through the product, training, and setup.
They will also send you replacements in case some parts of the wireless fence aren't working. The agents know their products and not just some random person with canned responses.
What we don't like
If we have a major gripe about this wireless dog fence, it would be the replaceable battery on the receiver collar.
It's not rechargeable, so we have to keep purchasing the replacement RFA-67D-11 batteries. These are proprietary batteries from PetSafe, which means you can't use just about any option in the market.
Nevertheless, each replacement lasts for up to 3 months or longer if your dog only goes out for 1-2 hours a day.
Another thing that we noticed is that the collar loosens really quickly. I just wish they will make the strap material less slippery so that it will sit snugly around the dog's neck. But with a few modifications, we were able to keep the collar still.
Aside from that, the transmitter is bulky, which is surprising since it's marketed as 'portable'. It's kind of an eyesore wherever you install it, but it's just a tiny niggle we can live with. Anyway, you can't cover it with anything, or else the signal stability will suffer.
I also want to add that this wireless fence isn't for yards with dense trees and multiple structures. Anything that blocks the view impedes the signal as well, especially if you have a large metal shed.
Overall, using this wireless fence is a worthwhile experience. However, you have to familiarize yourself with the blink/flash patterns of the collar indicator lights. It's included in the guide, but it takes a while for me to memorize everything.
Wrapping Up
The PetSafe PIF-300 is a powerhouse containment system for small yards. It's one of the pioneer wireless fence systems in the market and has been proven by thousands of pet owners. For us, the upfront cost is worth the splurge since both the range and collar connectivity are expandable.
While you're limited to a circular boundary, this PetSafe wireless fence compensates when it comes to connectivity. The after-sales customer service is also a champ, which is very important for a wireless fence with this price tag.
If you're looking for a wireless dog fence, the PetSafe PIF-300 might be the best pick. The only way to confirm this is to try it!
Written By