PetSafe PIF00-13663 Stay & Play Wireless Fence For Stubborn Dogs (Review)
Setting up a wireless fence in a sloped yard is challenging, much so if you have a stubborn dog. The uneven terrain paired with the canine's strong correction tolerance begs for a more reliable system. Fresh from one of our latest installations, the PetSafe PIF00-13663 Stay & Play Wireless Fence solves these problems.
We've mentioned before that PetSafe is one of our trusted brands. We use this on our dogs, and it's also one of our top recommendations to the acreages where we're hired to install wireless fences.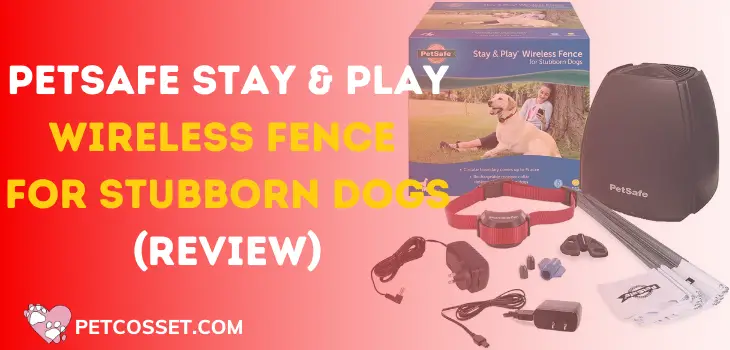 In our review below, we will share our firsthand experience, together with a quick look at the features of the PIF00-13663 unit.
The PetSafe PIF00-13663 Stay & Play Wireless Fence For Stubborn Dogs is one of the newest offerings from the brand. Unlike the PIF-300 and PIF00-12917, this PIF00-13663 model was only introduced in the market back in March 2019.
Moreover, this PetSafe wireless fence has a ¾-acre range, equivalent to 105 feet of a circular boundary. The transmitter is also portable, like the one from the PetSafe PIF00-12917 model.
But what's really the difference between PetSafe PIF00-13663 and other PetSafe models? The biggest difference here is the static shock intensity. While it also uses five adjustable levels, the charge is much stronger than those on standard PetSafe wireless fence collars.
This is also the reason why this wireless fence system costs more than the other models from PetSafe. It will cost you about $50 more compared to other standard systems.
What's in the box?
1 x transmitter
1 x receiver collar
50 x training flags
1 x test light tool
4 x contact points (prongs)
1 x contact point wrench
1 x mounting bracket
1 x product manual
Key features
With PetSafe, you won't be disappointed when it comes to features. The following are just some of the features that make this system stand out:
Stronger static shock. If you have a stubborn dog, the receiver collar on this set is a perfect choice. It has a stronger shock factor but well within the safe range for canines.
Correction-free re-entry. This feature will let your dog cross the boundary without being shocked once it decides to go back. It's one of the ingenious features of PetSafe that made it one of the top choices of our clients.
Excellent compatibility. The best thing about PetSafe wireless fences is you can mix and match their collars and receivers. For the PIF00-13663, you can use the collars from PIF00 14288, PIF00 15002, and PIF 275 19 models aside from what's included in the package.
Reliable customer care. While we didn't need this for our installation, I want to mention that PetSafe has one of the most reliable customer care hotlines for wireless fences. Their agents are U.S.-based and very knowledgeable of the products.
Expandable range. While the base unit on this package only has a 3/4-acre range, you can expand it by syncing a second transmitter. This is compatible with the base units from PIF00-13210, IF-100, and PIF00-15348 PetSafe models.
RV-compatible. If you're traveling with your dog, this PetSafe wireless fence can be used in the RV. You just have to set up the outlet.
What we like
PetSafe is one of the leading brands when it comes to wireless fence systems. We've proven this in our experience as dog owners and lately as wireless fence installers.
Our client for this unit has three dogs, two of which are Golden Retrievers, and one is a feisty Beagle. It only took us an hour to set up everything.
We mainly focused on the installation location because his acreage has a steep slope. The trick is installing the transmitter higher, so the dome-shaped signal can overcome the hilly area. Upon finding the right spot, the transmitter worked seamlessly.
I also want to highlight that the collar on this package is rechargeable. This is quite a big deal since PetSafe still produces models that use the replaceable RFA-67 batteries.
Again, the customer care hotline of this brand is just stellar. You can call them from Monday to Saturday at 1-800-845-3274.
Aside from that, this wireless fence works even for long-haired dogs. Just make sure that you use the right contact points included in the package.
Our client was also impressed that he can adjust the correction level for each dog individually. And by the way, this workhorse can connect an unlimited number of receiver collars. Whether you own an acreage or a dog shelter, this might be the perfect fence for you.
What we don't like
As much as we're fans of PetSafe, we will be completely honest on some aspects we're not quite impressed about.
First, and I believe I mentioned it on another PetSafe review, is that the collar strap is a bit slick. For small dogs, it tends to move a lot.
Also, we noticed that the charger connection to the collar is quite fragile. You have to be careful when plugging this thing, or you might break that part. But in case that happens, the 1-year warranty may come in handy, depending on the situation.
Moreover, it can be tricky to find an installation location if your area has dense trees or a metal shed. Slopes that are steeper than 3 to 4 feet are also difficult to overcome.
Lastly, you have to charge the collar every night to ensure that it won't run out of power while your dog is outside. Still, it's just a small niggle compared to purchasing replaceable batteries.
Wrapping Up
The PetSafe PIF00-13663 Stay & Play Wireless Fence For Stubborn Dogs is yet another great offering from this brand. It's been tried and tested by hundreds of pet owners, including our latest client.
Overall, this works well on mild slopes not steeper than 3 to 4 feet. If your property has a steeper hill than that, a GPS wireless fence or in-ground wired fence might be more ideal options for you. We have reviewed these options on separate posts, so feel free to check them out.
What do you think of this PetSafe wireless fence? Let us know below!
Written By