PetSafe Stay and Play Compact Wireless Fence For Small Dog (Review)
When it comes to the best wireless dog fence for small dogs, we swear by the PetSafe PIF00-12917 Stay & Play. While more compact than its predecessor PIF-300, it offers a broader range and a more portable design. This wireless dog fence for small dogs will give the best value for your money, whether you're using it at home or in your RV.
In this post, we share our experience after using the PetSafe PIF00-12917 unit for more than two years. See if it's also the perfect match for your dog.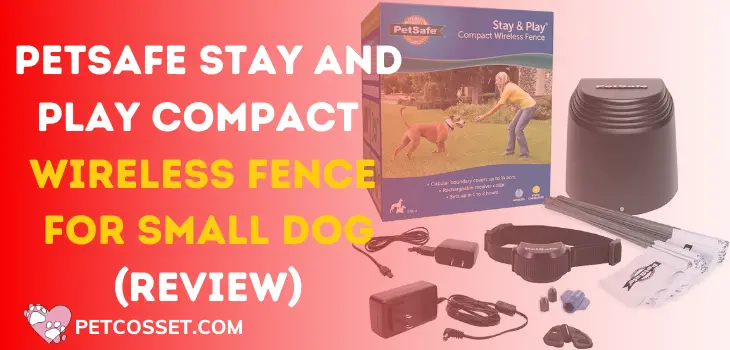 The PetSafe PIF00-12917 was first made available in the market in June 2011. It bears many features of the original PIF-300 launched in 2002, but with a lot more functionality.
It boasts a ¾ acre of range, which is 50% more than what PIF-300 offers. Still, it uses a radio signaling system that creates a dome-shaped boundary in your property.
Despite the bigger range, the transmitter on this set is made smaller. It's not pocket-sized, but it's small enough to fit comfortably inside a backpack. With this, you can take it while camping or traveling with your dog.
Moreover, the PetSafe PIF00-12917 Stay & Play Compact Wireless Fence stays true to the brand's massive connectivity. Like the PIF-300, this transmitter can also connect an unlimited number of collars to contain all your pets at home. Learn here about Petsafe wireless fence for stubborn
What's in the box?
1 x transmitter
1 x receiver collar
1 x test light tool
1 x power adapter
1 x collar charger
2 x contact points (prongs)
Marker flags
User manual
Key features
For the PetSafe PIF00-12917 Stay & Play Compact Wireless Fence, we are impressed by the following key features:
Static-free reentry. This feature is pretty standard on all PetSafe wireless fences we've bought. It prevents unnecessary correction whenever your dog goes back to safety. This way, your dog will know that running back to the safe zone will save him from the static shock.
Rechargeable receiver collar. Unlike the collar from the PetSafe PIF-300 wireless fence, the one on this set has a built-in and rechargeable battery. You no longer have to spend more money buying replacements.
Portable design. The transmitter of this wireless fence is relatively smaller than its predecessor unit. We've tried hooking this up on our RV, and it worked seamlessly. You just have to set up the outlet.
Adjustable correction levels. The PetSafe PIF00-12917 receiver collar is programmed with a tone mode and a static shock mode. The static correction can be adjusted in 5 levels to match your dog's tolerance.
Unlimited collar connectivity. Again, true to the PetSafe brand design, the PetSafe PIF00-12917 transmitter can connect an unlimited number of receiver collars. It can do so without experiencing signal or boundary issues.
Flexible expansion. While the transmitter of this fence has a base range of ¾ acre, it can be doubled by syncing a second base unit. This way, your dog can roam in a larger area. Please read here Best Wireless dog fence for large area
What we like
We're a big fan of PetSafe containment systems, so there's no hiding that the PIF00-12917 is one of our favorites.
One thing that made this stand out is its adjustable correction levels. We have small dogs, and most wireless fences we've tried have very high correction levels for small breeds to endure. One time, one of our dogs ended up with a mild burn until we switched to PetSafe.
We've been using this specific unit for two years now and couldn't be any happier. Our dogs are runners, so having this all set up before they go out is a big relief. Learn Here how fast can a dog run
At one time, we have 8 dogs in the house, with friends and their pets coming by. All the canines were able to roam our yard safely even if we're yet to put up a physical fence at that time.
This is literally a lifesaver, especially if you live near a busy road or railway tracks. Small dogs are hard to see, especially at night, so you can't risk them escaping your property.
We only wish we bought this sooner than we can. That would have saved our dogs and our family from the hassle. I also like the fact that it only took me less than an hour to get everything working.
Overall, the lowest setting is just right for our small dogs. For bigger canines, we crank it up to level 3 or 4. The good thing is that you can control the correction level of each collar you connect.
And before we forget, PetSafe has one of the best customer care hotlines in all of the dog fences we've tried. The agents are U.S.-based, and they are very knowledgeable of the product.
What we don't like                         
When it comes to the downsides, I have to emphasize that metals really mess with the signal of this wireless fence.
We used to have an old metal shed that sets off the collar even if our dogs are still within the boundaries. After tearing the unused shed, the PetSafe PIF00-12917 wireless fence worked like magic.
Also, many pet owners find this containment expensive. There's truth to this, especially if you're on a budget and need to buy multiple additional collars. But with this quality, we're more than willing to splurge.
Similar to the PetSafe PIF-300, the struggle of memorizing flash/blink patterns on the collar continues with this fence. Nevertheless, it's a small pain I'm more than willing to take if it means keeping my dogs safe.
Wrapping Up
Whether you're looking for the best wireless dog fence for small dogs or one for your multi-canine household, the PetSafe PIF00-12917 is a good choice. This bears the same features as PetSafe PIF-300 but with massive improvements.
We never encountered major issues on signal and correction accuracy in our two years of using this fence. As long as you install the base unit in a protected place, it will last for years. You should also keep the receiver collars from aggressive chewers. Please read here how to stop dog aggression toward cat
For those who are looking for a reliable dog fence, I always recommend the PetSafe PIF00-12917. It's not the cheapest option, but for very good reasons.
Written By