PetSafe Stay & Play Free To Roam Wireless Fence for Acreage(Review)
When it comes to the best wireless dog fence for acreage, we swear by PetSafe Stay & Play Wireless Fence. Many of our clients have chosen this system to serve as a virtual fence for their small acreage properties. And true to the PetSafe quality, this system rarely disappoints.
In this post, I will share our experience in installing and using the PetSafe PIF00-15001 in one of the acreages in Calgary. Read on to see if this is also the right choice for your dogs.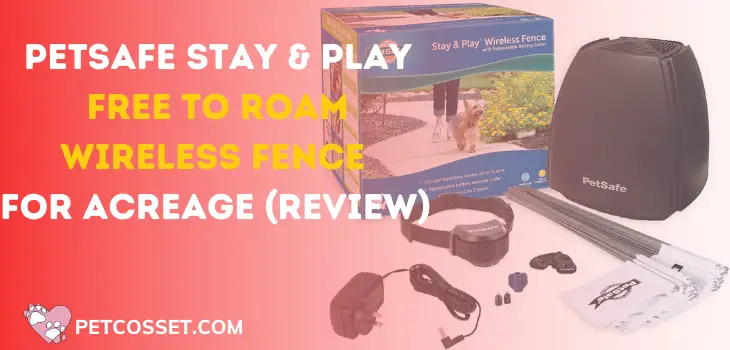 The PetSafe PIF00-15001 was first introduced in the market back in 2016. It's considerably new since PetSafe has been making wireless containment systems back in the early 2000s.
For this wireless fence, you're going to get a ¾-acre range or 105 feet in all directions. For those with large acreage, this range is expandable with the addition of a second base unit. You just have to overlap the signal to prevent loopholes or boundary wobble.
So what's the difference between PIF00-15001 and other PetSafe models? It's quite tricky, actually, because this one almost has the same features as the PIF00-12917 we reviewed in a separate post.
One thing that sets this apart from other PetSafe models is the replaceable collar battery. At first, we're not really a fan of it. The idea of buying replacements repeatedly is just unappealing for a cheapskate like me. But below, I discussed why this might be a better option than rechargeable types.
Take note that the PetSafe PIF00-15001 Stay & Play Wireless Fence was previously known as the Free to Roam model. It's the same product but rebranded with a different name.
What's in the box?
1 x transmitter
1 x receiver collar
1 x PetSafe RFA-67 battery
50 x training flags
1 x test light tool
1 x mounting bracket with hardware
2 x contact points (prongs)
1 x product manual
Key features
For the PetSafe PIF00-15001 Stay & Play Wireless Fence, the following are some of the features we truly like:
Correction-free reentry. This is a standard feature of PetSafe wireless fence collars and very helpful in encouraging the dog to go back. It also prevents runaways, as we've heard some dogs running further because they get shocked by trying to re-enter the boundary.
Unlimited collar connectivity. While PetSafe systems aren't cheap, they will give your money's worth. The PIF00-15001 allows users to connect an unlimited number of collars. This way, you can contain multiple dogs in your acreage using one fence system.
Adjustable correction levels. This wireless fence uses five adjustable levels of shock correction. This is something that makes PetSafe stand out from brands like OKPET and JUSTPET.
Portable design. The PIF00-15001 has a much smaller transmitter than the PIF-300 model we used to own. It's not pocket-sized but small enough to be compact for travel/RV use.
Topnotch customer care. Of all the wireless fences we've installed in acreages around Calgary, PetSafe is the only one that offers the best customer service. They have U.S.-based agents that can walk you through the product.
Stable signal. While the PIF00-15001 isn't the biggest in terms of range, it compensates when it comes to signal stability. You can count on it to work seamlessly for your acreage as long as there are no major obstructions nearby.
What we like
Not to sound biased, but PetSafe is one of the rare brands that create high-quality wireless fences. For the PIF00-15001, you'll get a permanent solution in containing your dogs in a fenceless acreage.
Sure, this thing isn't as portable as the JUSTPET S9, but you simply can't beat the quality PIF00-15001 offers. I really don't mind the transmitter size if it means having the ability to adjust the correction level for each dog.
Overall, it worked as advertised and our client was pleased with the results. Of course, we have to train the dog and all, but that's just part of the process if you want a system as reliable as this to work.
Another thing I like about PetSafe is they made their wireless fences compatible with their other models.
For example, if you wish to add more dogs to the system, you can purchase the collar from the PIF00-13672 (for stubborn dogs), PIF00-14288 (standard), and PIF00-15002 (with replaceable battery).
You can also expand the range by syncing the transmitter from models like PIF00-13210, IF-100, PIF00-13663, and PIF00-15348. You can literally mix and match them to enjoy the best features of multiple models.
Our client also informed us that he tried bringing this to a campsite. He just placed the base unit on the center door of his 5th wheel, and the signal worked well.
What we don't like
With PetSafe, we don't really have deal-breaker concerns. The only struggle we encountered with the PIF00-15001 model is setting the range.
The first time we set the range, the warning tone of the collar set off far from the intended boundary. With this, I had to hold the collar as the other person adjusts the transmitter.
We communicated through the phone to let the person in the transmitter know that he has reached the intended boundary.
If your acreage has flat ground, this wireless fence will work just fine. But if you're dealing with steep slopes, blind spots, or dense trees, the signal stability may not be as good as it should be.
Lastly, I'm not a fan of the replaceable battery on the collar. You basically have to buy the proprietary RFA-67D from PetSafe, but the upside is that each one lasts for 2 to 3 months. There's no need to deal with potentially faulty chargers or built-in busted batteries.
Wrapping Up
The PetSafe PIF00-15001 is a smart choice for those who want the right balance between value and performance in their acreage. As someone who has been using PetSafe wireless containment systems, I can attest to the durability of this system. Our unit (PIF-300) lasted for more than two years, and I'm sure that this one can make the stretch too.
What do you think of this PetSafe wireless fence? Have you used it before? Let us know below!
Written By