Wellturn Portable Wireless Dog Fence For Long Range (Review)
We've installed many portable wireless fences in various acreages here in Canada. Many offer a massive range, only to fall short with signal stability. But if you're looking for the best long range wireless dog fence, the Wellturn Portable Wireless Fence might be the reliable choice.
In this post, we will share our review of this portable fence based on our firsthand experience installing and using it for our client.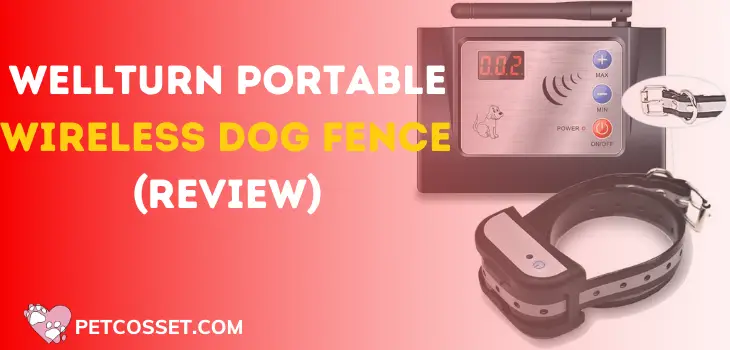 The Wellturn Portable Wireless Dog Fence is a Chinese-made containment system. But before you cringe and walk away, hear me out.
While there's some truth to the stereotype on 'Made in China' products, Wellturn has something to offer. It boasts up to 990 feet of maximum range with more than decent signal stability.
But it's much smaller than what Pawpular has to offer? Sure, the Pawpular Wireless Dog Fence promises up to 1,640 feet of range, but stability has been in question.
With our experience with Wellturn, it yielded better performance in its maximum distance setting. It's also adjustable in five pre-programmed increments, with 98 feet as the minimum.
No wires to bury, no bulky transmitters, and no complicated setup – this is what Wellturn promises with their wireless fence systems.
Just note, though, that this is made for outdoor use only. Areas with large metals, masonry walls, and other confined spaces will jeopardize the signal stability,
What's in the box?
1 x transmitter
1 x receiver collar
1 x USB split charging cable
1 x power adapter
1 x collar strap
2 x contact probes
1x test light tool
1 x mounting screw
1 x user manual
Key features
For the Wellturn Portable Wireless Dog Fence, the following features are very useful:
Three correction modes. This wireless dog fence has vibration, static, and tone modes to encourage your dog to go back to safety.
Connects up to 3 dogs. With this portable wireless dog fence, you can connect up to three collars. You have to purchase the additional receivers, though availability isn't always guaranteed. Learn here Wireless dog fence for 2 dogs
Pet lost alarm. If your dog happened to defy the correction levels, the transmitter would beep as a form of pet lost alarm. This will notify you that your dog has breached the barrier and didn't come back after the correction cycle finished.
Auto pairing. The collar and transmitter pair automatically, so there's no need to sync it manually. Our client likes this feature since he's not very techie.
Long battery life. Unlike the Pawpular Wireless Fence that only uses a 300 mAh collar battery, Wellturn has 400 mAh of power, which makes it last longer for every charge. One charge lasts for 7 days in use and 12 days on standby mode based on our experience.
Reflective strap. The collar strap of the receiver is made of TPU material with reflective trims. This is added safety, especially if you let your dog access a large area.
Excellent return and refund guarantee. While we didn't need to use this perk, Wellturn offers a 30-day money-back guarantee and a 6-month replacement warranty for their wireless system. For this price, this is more than impressive already.
What we like
One of the first things I like about Wellturn is the straightforward setup. Since our client has flat ground on his property, we didn't have to take long to find the right spot. The key is avoiding metal objects, trees, and other major blockages.
After we turned on the transmitter and collar, the two paired after a few seconds. Next, we set the range and check if the collar will beep right where it should be. After several adjustments, we found the accurate range.
Also, our client likes the fact that the collar is waterproof and dust-proof. He has a Golden Retriever who loves rolling on the dirt, so this feature comes in handy all the time.
The receiver collar works even if it's submerged in water. But since water is a conductor, your dog will experience a slightly stronger shock than normal.
If you're camping, this is the perfect portable wireless fence to buy. You can easily place this anywhere and set the range to avoid losing your dog. please read here tips for overlanding and camping with your pet
Aside from that, I like that Wellturn listed specific reminders on the manual. This is a crucial piece of information for pet owners who are using a wireless fence for the first time.
Although not a big deal, I like the idea of the split charger in the package. This allows you to charge both the receiver and transmitter at once without occupying two outlets. It's a very convenient feature if you're using it in an RV where power outlets/sources are limited.
What we don't like
Now on the part we don't really like, I have to say that it would be the availability of the extra collars. This system can connect three receivers, but Wellturn doesn't always have stock if you want to buy more. Our client faced the same dilemma where he had to wait for a few months to get a receiver for his second dog.
Aside from that, I don't think this is a good choice for strong-willed and stubborn canines. If you want your dog to receive the highest possible shock, you may need to shave the contact area.
And just like any portable wireless dog fences, the static shock mode of this model isn't adjustable. It cycles automatically, but there's no way for users to tweak the correction intensity. This is the same issue we have over more expensive models from PETSAFE and OKPET brands.
Wrapping Up
The Wellturn Portable Wireless Dog Fence is a worthy candidate for the best long range wireless dog fence. It has an impressive range and decent signal stability that works for most applications.
However, it does come with some downsides, including the lack of correction adjustability. But if your dog is well-trained and quite sensitive to shock, this portable wireless fence may work well. Remember that, as with any containment system, training is the key to see good results.
Do you have anything to add to this review? Let us know in the comment section below!
Written By