5 Best Wireless Dog Fence For Hills According To Pet Owners
Wireless fences work well on flat ground. But what if you live in a hilly area? In this case, you need the best wireless dog fence for hills. It's made with strong signal penetration and technology that will help overcome steep hills. I swear by JUSTPET, Kacsoo, and Pawpular Dog Fence Systems. If you prefer GPS technology, you'll never go wrong with the options from AngelaKerry and Petector.
These wireless dog fences are made to deliver stable signals and excellent diffraction. This way, your area will have unbeatable coverage even if it has a sloping feature.
Below, I have 5 invisible fence reviews to help you find the right pick for your dog:
What Are The Best Wireless Dog Fences For Hills?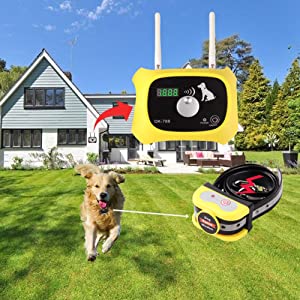 When it comes to hills, I swear by JUSTPET Wireless Dog Fence System. This gives the popular PetSafe wireless fence a run for its money in terms of range and signal stability. This system will help keep your dog inside a hilly location without the hassle.
Moreover, this has a maximum radial range of 1,000 feet, giving your dog ample space to run around. It's completely wireless, and it also comes with a portable transmitter remote for your convenience.
For hilly areas, this uses a 433 MHz channel frequency and dual antennas. This guarantees strong signal transmission on various terrains. And since it uses stronger radio waves, it can overcome mild slopes with ease.
Your dog will receive a warning beep when it comes to correction modes whenever it tries to go near the boundaries. If it goes beyond the covered area, the static shock mode will be activated. This will encourage your dog to go back.
I also like how adjustable the range is in 100 different levels. The increments are pre-set, but you still have to manually check if the receiver collar will beep right where the signal should end.
Overall, this is very easy to set up, but the user manual confused me a bit. I suggest using common sense and trial and error since I find it easier than having to refer to vague instructions.
Anyway, I received two chargers for this set, one each for the transmitter and collar. It's a much better upgrade than its predecessor unit, where both devices share a single charger.
Who makes the best wireless dog fence? In terms of GPS technology, I stand by AngelaKerry Wireless Dog Fence. This has a maximum range of 800 meters with a very minimal error of not more than 5 meters. And since it uses an overhead GPS signal, this wireless fence is perfect for hills and sloped areas.
I also like that this wireless fence doesn't use any transmitter. The collar has a built-in GPS function and a small digital display where you can set the radius. Take note that you have to remain stationary while setting the range. Also, your location upon setting the range will be the center of the dome-shaped coverage.
Once the range is set, your dog can freely roam the hills in your area. Just make sure that there are no overhead blockages like dense trees that could affect the GPS signal transmission.
If your dog tries to run past the virtual boundaries, the 7 levels of correction will start to cycle. The first and second levels only include a beep warning.
The moment your dog stepped out of the covered area, the lowest static correction will engage. The static and beep warnings will get louder the longer your dog stays out of the safe zone.
Overall, this wireless fence is covered by a 1-year warranty. If you're not happy with the results, you can send it back for a full refund within 90 days upon receipt of the package. please read Full Review
The Kacsoo Wireless Dog Fence is perfect in containing two dogs in a hilly area. It's bundled with two receiver collars with a transmitter. Overall, this boasts of up to 300 meters of maximum range that can overcome mild hills. It's the perfect choice for multi-canine households located in slopey areas.
Moreover, this uses sound, vibration, and static corrections. The added vibration stimulation will encourage your dog to go back right away instead of receiving the static charge. It's an excellent feature for training together with the sound warning.
The Kacsoo Wireless Dog Fence has adjustable correction levels to suit the tolerance of your dog. You can also change the individual correction levels of each receiver collar.
I also like the digital display on the transmitter that lets you monitor the current range. It also has separate buttons for the correction for easy adjustments. I actually didn't have to refer to the user manual since this wireless fence is pretty intuitive.
Aside from that, each of the two collars is equipped with TPU straps. It's adjustable, and you can cut off the excess length. The collars are also waterproof, so you don't have to worry even if it rains or if your area has water features.
Take note that this wireless fence isn't just useful for home purposes. I also use this whenever I'm taking my two dogs on the hilly parts of the woods. They can roam freely with no leashes getting wrapped around trees. It also gives me peace of mind that my dog won't get lost.
If you're looking for a portable yet reliable fence, you'll never go wrong with the Pawpular Wireless Dog Fence System. This is made with a maximum range of 1,640 feet and a strong signal transmission that works well on hilly areas.
The transmitter of this wireless fence has a digital display that shows the current range. You can easily adjust the coverage area, but there are no buttons to tweak the correction levels.
This is because Pawpular uses an auto-cycling correction. Once your dog is only a few meters away from the boundary, the collar will emit warning sounds every 2 seconds. This will be followed by static shock in the lowest level once your dog steps out of the limits.
The intensity of the static correction increases the longer your dog stays outside the boundaries. The good thing here is that there are pauses in between each static correction cycle. This will give your dog the chance to run back before receiving another correction.
Meanwhile, the collar of this wireless fence runs for a maximum of one week for every 3-hour charge. If you're only using it for a few hours a day, the battery life can last for weeks.
For this price, this wireless dog fence is already a steal. I also consider it the best wireless dog fence for large acreage because of its impressive range and signal stability. If you don't want to go through the hassle of wired fences, this is an entry-level pick that will give you the best bang for the buck.
My last pick for hilly areas is the Petector GPS Wireless Dog Fence. Like the one from AngelaKerry, this portable fence utilizes GPS technology. It will give you up to 2,625 feet of maximum range on all terrains – including hills and slopes.
Moreover, this has 7 settable levels, including 5 levels of static correction and a warning tone. I also like the automatic protection design that limits the static correction for just 20 seconds. After that, the correction mode will stop for one minute before repeating the cycle up to three times.
Unlike wireless fences that use radio signals, this one from Petector doesn't have a separate transmitter. Everything is built on the collar, the same as the fence from AngelaKerry. You just have to select a center point where you will set the range of the collar.
Aside from that, the collar is waterproof and adjustable from 6 to 25 inches. If you have a larger dog, you should consider the AngelaKerry GPS dog fence instead. Just note that it's normal for the collar strap to disintegrate after a few years as TPU breaks down naturally.
Again, GPS wireless fences are suitable for all terrains as long as there are no major overhead blockages. If thick trees cover the hilly area you're in, this wireless fence may not work as much as it should.
Overall, I'm happy with the performance of the Petector GPS wireless fence. It's even bundled with 50 marker flags for training. Also, each collar charge lasts for up to 12 hours, which is already a champ considering its portable and compact design.
Tips in choosing a wireless fence for hills
Containing a dog in uneven terrain isn't easy. To make sure that the wireless fence will work properly, you should check for the following things first:
Check the range
Wireless fences are all about range. For those living in hilly areas, it's very important to check the maximum area you want to cover. Wireless fences are available in a variety of ranges from a few hundred feet to 1,900+ feet.
For hills, I recommend getting a wider range to have some sort of buffer instead of maxing out the range on its very least feet.
Choose between GPS and radio signal
Another thing that you have to consider is whether the wireless fence uses GPS or radio signals. For hilly areas, GPS is the most convenient option. It uses overhead signals that can overcome almost any type of terrain.
However, GPS signals are only ideal for open spaces. If your place has dense trees or multiple structures, your best bet might be the traditional radio signal options.
Opt for multiple correction modes
For my dogs, sound and static modes are more than enough to send them running back to safety. You can also consider wireless fences with added vibration if you have a stubborn canine.
Take note that not all wireless fences have adjustable correction modes. Some are pre-programmed to cycle based on how long your dog stays out of the safe zone. This is convenient since it takes the guesswork out of your hands.
Consider the battery power
Wireless dog fences have battery-powered collars, which can be rechargeable or replaceable. Meanwhile, the transmitter can either be plugged or battery-powered as well.
I always recommend rechargeable collars if you don't want the hassle and extra expense of buying replacement battery packs. As for the transmitter, it depends on your preference. Rechargeable types are portable and convenient, but you have to charge them almost every day.
Think about the cost
Lastly, the wireless fence should offer the best value for its cost. When it comes to wireless fences, I always prioritize range and signal stability. If a unit can provide this consistently, I'll be more than happy to splurge.
Do wireless dog fences really work on hilly areas?
Do wireless dog fences work
on hills? We get this question a lot, and the answer isn't always simple. For the most part, wireless fences work on hilly areas as long as the slope isn't steeper than 4 feet.
What if my area has steeper hills?
If your area has a steeper slope than mentioned above, I suggest getting a GPS-powered wireless fence. Unlike radio signals, GPS wireless fences use overhead signals that can overcome almost all terrain. Whether your area has the steepest hills, a GPS wireless fence will work seamlessly as long as there are no thick trees or tall structures.
How do I install a wireless fence in a hilly area?
Location is also a key part of making wireless fences work for hills. You have to elevate the transmitter so that the dome-shaped signal can penetrate way past the hills. Some fence models allow you to sync two transmitters for a larger coverage and stronger signal. You can mount the two transmitters on the opposing sides, so their signals overlap to overcome the hills.
How do I find the best wireless fence for hills?
I suggest trying several wireless fences to see what works for you, your location, and your dog. If your budget doesn't permit this, go for one with a wide range, strong signal diffraction, and an unbeatable money-back guarantee. That way, you won't lose anything in case the wireless fence didn't work as expected.
Can GPS wireless fences overcome hilly areas?
A GPS wireless fence can overcome the steepest hills you can imagine. To give you an idea of how powerful GPS is, its signal can work even on top of the mountains. So even if your dog is roaming the hills, the wireless fence will keep track of the canine as long as you set the range right.
How does a GPS wireless fence work for hills?
GPS uses actual satellites up in the sky. It works vertically, not horizontally as most radio signal-powered wireless fence does. This is why GPS options are more popular for those living in acreage and hilly areas.
What are the limitations of a GPS wireless fence?
You should be aware that GPS wireless fences have their limitations. Your dog has to stay in the open for the signal to work. Once your dog enters a structure or a covered area, the range may reset, and you have to fix it again. Nevertheless, it's a minor problem that I can live with.
Wrapping Up
The best wireless dog fence for hills should have a strong signal penetration and stability. The likes of JUSTPET, AngelaKerry, Kacsoo, Pawpular, and Petector wireless fences are just some of the best picks for this purpose. Whatever you choose, make sure that it matches your dog's needs and your budget. You should also pair it with training for the best results.
Written By