Best Wireless Dog Fence For Large Dogs: 5 Reliable Options Here!
Are you finding it hard to maintain your big and rambunctious dog within your yard? If so, you should invest in the best wireless dog fence for large dogs. My top picks include KAROTEZH, My Pet Command, AngelaKerry, WIEZ, and JUSTPET. These are made for stubborn dogs and large canines that keep on escaping your physical fence.
Take note that you have to be particular about the wireless fence you're buying for large canines. You should look beyond the brand and focus on the features. Most of all, you should prioritize the fence's reliability and quality and not its price. Alos Read Wireless dog fence systems
For this post, I will share with you the best wireless dog fence system for large dogs together with a brief buying guide.
What is the best wireless fence for large dogs?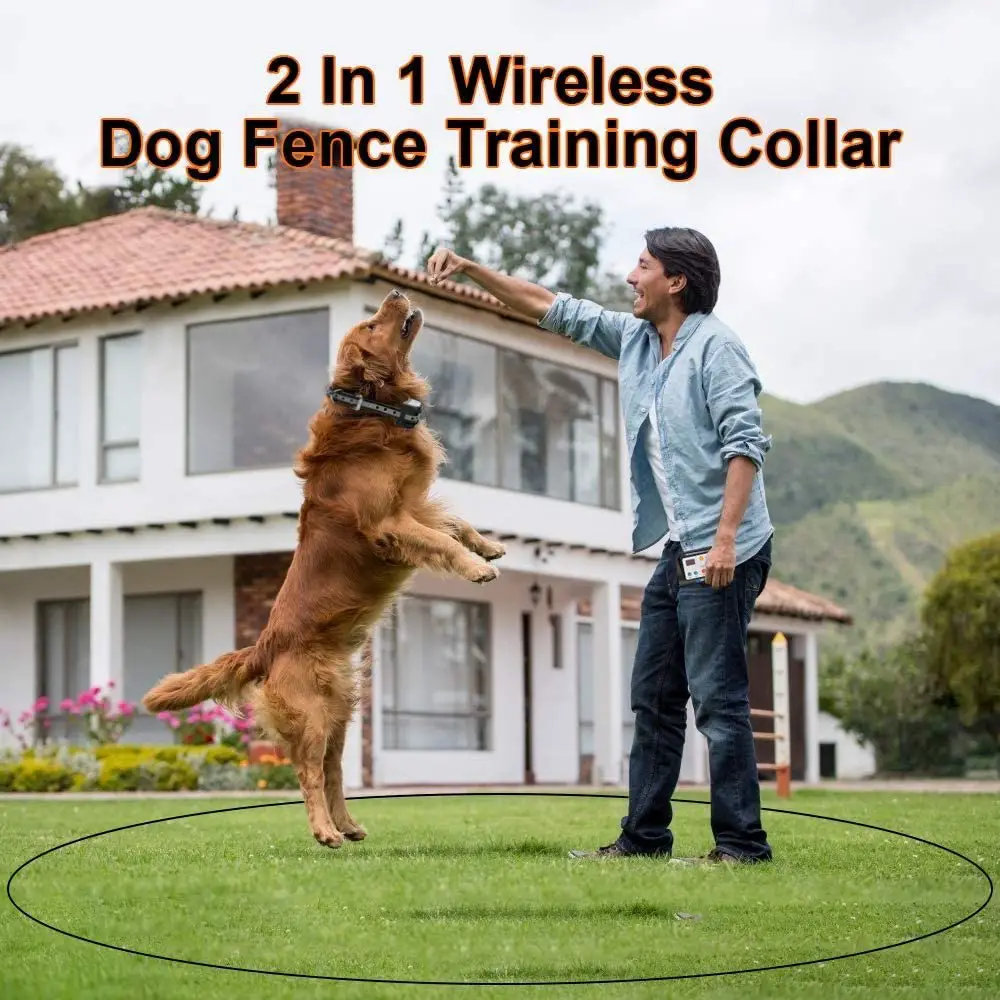 If you're looking for an extreme dog fence to contain a large dog, you should consider this system from KAROTEZH. This 2-in-1 wireless dog fence is a combo of a portable remote transmitter and a rechargeable receiver collar.
This wireless fence system has a 300-meter range, which you can set in five different modes. You can set it up in 30, 60, 90, 150, and 300 meters to suit the size of your yard. This is aside from the three correction modes, which include vibration, sound, and shock modes.
Moreover, the static correction of this wireless fence can be adjusted to six levels, which is perfect for stubborn and large canines. You can control all of these functions on the remote transmitter with separate buttons. It's also fitted with a digital display, so you can easily see the range you set.
Aside from that, this has a waterproof and rechargeable receiver collar. And if you're looking for a wireless dog fence for 2 dogs, the KAROTEZH 2-in-1 Wireless Dog Fence is a good choice. It allows you to connect up to three collars to a single transmitter.
Thanks to its portable design, you can take this fence just about anywhere. It's a perfect choice when camping with your dog or when going for long vacations.
Overall, this package includes the collar, transmitter, four metal probes, and a 5V charger. It's also paired with a USB charging cable, four silicone cases, a reflective strap, one screw, and a user manual.
If you have an existing My Pet Command Wireless Fence and planning to add another dog, make sure that you get this extra collar. This cost-effective fence system is perfect for multi-canine households on a budget.
This receiver collar is IPX7 waterproof, so you'll have peace of mind even if your large dog loves playing with the sprinkler. It's equipped with a tone mode that warns your dog as it approaches the boundary.
And if your large dog defies the perimeter, an auto sequence of vibration and static correction will ensue. This will encourage your dog to run back to the safe zone.
Moreover, this collar is designed to suit large dogs with a neck circumference of up to 68 cm. It's highly adjustable, so there's no need to purchase a separate strap.
Aside from that, you can adjust the safe range between 3 and 5 feet from the boundary. This means the tone mode will engage once your dog reaches the 3 to 5 feet mark. It's a buffer to give your dog the chance to retreat without receiving a static correction.
Overall, the package includes the shock collar and a charging cable. Since it's rechargeable, you don't have to spend extras on replacement batteries.
Are you looking for a GPS wireless fence on a budget? If so, you should put your money on the AngelaKerry GPS Wireless Dog Fence. This utilizes an innovative global positioning system (GPS), so you no longer have to set up a transmitter or base unit. Everything can be set using the collar.
Moreover, the collar has an 800-meter range with a margin of error of 5 meters. The best thing about this system is its strong anti-interference feature that won't be disrupted by metal objects. It's more stable than typical wireless fences that use radio signals.
Aside from that, this emits an automatic correction whenever your dog leaves the set boundary. It will produce a 20-second static and tone correction and then shut off for one minute before repeating the correction cycle.
I really like this dog fence because it doesn't have a remote controller, transmitter, or base unit you need to install. You can easily set the range within the collar since it has built-in buttons and a small digital display. Please read here petsafe wireless fence for small dog
Just remember that the range of this fence is circular, and the center would be your location when setting the perimeter.
This collar is rechargeable and IP66 waterproof, so it will continue to function rain or shine. You will also receive two sets of metal probes, a test bulb, a USB charger, and a TPU strap.
When it comes to a 2 in 1 smart pet wireless dog fence, I always swear by WIEZ Wireless Dog Fence System. This is a combination of a portable remote controller and a receiver collar. It also works as a training tool and a wireless fence for the price of one.
The remote control of this fence uses a 2.4 GHz technology with a dual antenna design. This guarantees a reliable signal at all times. You can also adjust its range in five different distances between 100 feet to 990 feet. For a large dog, that's already a sizeable area to roam around.
Aside from that, you'll receive an IPX7 waterproof collar made of TPU material. The outer casing of the collar and the strap have a reflective trim to keep your large dog visible at night. Just note that it's normal for the collar strap to dissolve over the years due to its eco-friendly material.
When your large dog tries to escape the boundary, the collar will produce a 5-second warning tone. If the doggo goes on to run, it will vibrate for 5 seconds, followed by a 6-second combination of vibration and tone alert.
Finally, your dog will receive a 5-second static correction if it still doesn't retreat to safety. The cycle will repeat until your dog runs back.
Overall, this wireless fence system fits dogs that weigh up to 100 lbs. Each transmitter can pair three collars in case you have more than one canine to contain.
My last pick for large dogs is the JUSTPET Wireless 2-in-1 Dog Fence. This works as a training collar and a containment system for a low cost. You can adjust its range from 10 to 900 feet to suit the area you want your dog to access.
Moreover, this comes with a dog training collar with a remote range of up to 1,200 feet. Even if your dog covers a lot of ground, the collar will keep on correcting until your pet finally runs back to safety.
Aside from that, you can adjust the static stimulation from 0 to 100 levels. It's also paired with a tone mode and a vibration mode for guaranteed results. You can easily set up the correction level using the portable remote control transmitter.
The receiver collar is also rechargeable, so you don't have to spend more on replacement batteries. It's also IPX7 waterproof, which is the gold standard on wireless fence systems.
If you're worried about the contact point causing injuries to your dog, the good news is that this system uses non-metallic prongs. It reduces the risk of skin irritation, even for highly sensitive dogs.
Overall, this system fits dogs that are over 10 lbs. and up to 110 lbs. You can also adjust the collar strap from 8 to 28 inches for the right fit.
Both the collar and transmitter have built-in batteries, so you can take this anywhere you're bringing your dog. Learn more here Best wireless dog fence for large acreage
How to choose a wireless fence for large dogs
There are dozens of wireless fences in the market. Each one has a promising set of features, but not all can work for large dogs. To help you choose which suits your big doggo, here are some things you need to consider:
Wireless fence range
The range of your wireless fence will set the area your large dog can access. It should always match the size of your property. The bigger your yard is, the wider the range should.
You should also check if the range is adjustable. This way, you can limit your dog's play area if need be. This will also save you from purchasing another wireless fence in case you're planning to make changes to your yard.
Most wireless fences in the market have a 100 feet to ¾ acre range. The longer the range, the more expensive it will be.
Wireless fence technology
Another thing you should consider is the technology used in the wireless dog fence. It can either be GPS or radio signal.
GPS. Wireless fences that use a global positioning system often have a portable design. It allows you to set a perimeter wherever your dog is. However, the challenge here is that the GPS signal won't be strong enough if the area is covered with trees, tall buildings, and similar blockages.
Radio signal. This is the most common technology used on wireless dog fences. It usually utilizes a transmitter or base unit that emits the signal that the collar receives. Depending on the installation area, this can be more reliable than GPS technology. However, it's prone to interference if placed near metal objects.
Correction modes and levels
For large dogs, it's important to look for wide correction adjustments. This will let you find out the suitable level to curb your dog's stubborn behavior.
When it comes to the static correction, I always look for 5 adjustment levels. It's usually strong enough for most canines, even the most enduring ones.
You should also look for a tone mode that you can use for training. This will also serve as the initial warning for your large dog before it receives the static correction.
Lastly, consider a wireless fence with a vibration mode. This is added stimulation for large dogs that keep on escaping fences. The vibration mode will help nudge your dog to run back to safety.
Collar size and weight rating
Always check the collar size included in the wireless fence kit. It should fit your large dog nicely without being too tight. Before purchasing the wireless fence, see to it that you measure your dog's neck. The measurement should fall within the range the manufacturer provided.
Moreover, avoid receiver collars that fit by the last inch. There should be at least 2 to 3 inches of breathing room in case your dog gains weight or grows bigger.
Aside from that, wireless fence collars often have weight ratings. This guarantees that the correction level suits a specific dog breed.
Design
Wireless dog fences can either be portable or installed. Portable types often use a remote controller in place of a mountable base unit. It's a convenient option, but reliability may not be as solid as a mounted transmitter.
On the other hand, you can opt for the traditional transmitter and collar combination. You have to install the transmitter and keep it plugged at all times. This may not be as portable as a remote controller, but it's often the permanent solution.
Power and battery life
A wireless fence comes with a battery-powered collar. It's important that the collar has ample power to ensure that your dog won't escape the perimeter.
Take note that these collars can either be rechargeable or in need of battery replacements. Rechargeable types are the most convenient option. However, you have to plug it in quite often, depending on the capacity of the built-in battery.
On the other hand, there are brands that still use replaceable batteries. Most of the time, these batteries can last for months. It works just like rechargeable types, but getting the replacement is an added cost.
Multiple collar connectivity
If you have more than one large dog to contain in your yard, you should invest in a wireless fence with multiple connections. This means you can pair more than one collar to the transmitter or remote controller, so there's no need to purchase another fence.
Just make sure that the wireless fence system will remain reliable despite connecting many collars. Also, you'd have to purchase the additional collars separately.
Tips in installing your wireless dog fence
If this is your first time installing a wireless dog fence at home, the following tips will be a big help:
1. Choose an ideal location
Installation location is everything when it comes to wireless fences. Since this system uses radio signals or GPS, it solely relies on its radial coverage. This means that the installation location will be the center of the perimeter.
Choosing the right installation spot will prevent your dog from having access outside your intended perimeter. I suggest creating a layout of your property, so you'll know where the virtual perimeter will fall.
2. Keep the transmitter elevated
Remember that you need to install the transmitter unit at least 2 to 4 feet off the ground. This ensures unimpeded signal transmission. If you place it too low on the ground, the signal can easily get blocked by random objects. Aside from that, you should select a dry and ventilated area.
3. Place it away from metal objects
When it comes to wireless fences using radio signals, metal objects are your biggest enemies. You have to keep the transmitter at least 3 to 5 feet away from metal objects. The larger the metal is, the farther the transmitter should be.
4. Clear any blockages
Before installation, it's best to clear up your yard first. Trim overgrown bushes and cut off any growth that may get in the way of the transmitter signal. You may also need to move furniture and yard items to boost the reliability of the fence.
5. Test it first
Lastly, always test the wireless fence before putting the collar on your dog. This will let you check if you set the right range and if the transmitter is in an ideal location.
Tips in training your large dog for a wireless fence
Many large dogs tend to be very stubborn when it comes to wireless fence training. Also, there are large canines that can easily tolerate the correction. In that case, the following tips will be a big help:
1. Make sure the collar fits
Before the training begins, make sure that the collar fits your dog nicely. It shouldn't be too tight nor too loose. The rule of thumb is that the collar should be fit enough for the contact points to touch your dog's neck. If your dog looks uncomfortable with the collar on, you may need to adjust the fit properly.
2. Prepare a lot of patience
Each dog takes wireless fence training differently. Some dogs learn it fast, while others will test their owners. This is why you should stretch your patience since the training can take several months for the dog to fully recognize the boundary.
3. The reward system always works
Many dog breeds are food-driven, so rewarding them with treats during training will surely go a long way. Take note that you should only give the reward if your dog recognizes the boundary and when it comes to back to safety when called. This will teach your pet that staying in your yard is rewarded behavior.
4. Don't use the static correction right away
Many pet owners make the mistake of turning on the static correction right away. This can potentially sabotage the training. You'd want your dog to become familiar with the perimeter before the real correction occurs. For the first phase of training, you should utilize the marker flags as well as the tone and vibration warnings.
5. Do not use violence
Large dogs can be a handful during training, but you should never resort to violence and physical harm. If your dog doesn't want to respond to your commands, you may need to change your approach. Pushing the training session for long periods will also make the dog agitated and less likely to respond positively.
Do wireless fences work for big dogs?
Wireless dog fences work for big dogs as long as you set the right correction level. You should be particular about the system's accuracy and reliability. Training is also a crucial part of the wireless fence's success.
The problem with big dogs is their higher tolerance level. While it's not true for all large breeds, many pet owners observe that larger canines tend to endure the static correction better than smaller breeds. This can be attributed to their larger bodies.
Still, the solution here isn't just cranking up the correction level. You have to know why your dog keeps on escaping the perimeter. It's possible that there's an interference messing with the transmitter signal because you installed it near a metal object. Faulty collar batteries can also be the culprit here.
You also have to consider your large dog's personality. Sometimes, a dog's training can be overcome by its intense prey drive. It can be a squirrel or a ball that a kid tossed near your yard. In this case, you have to focus on training and desensitizing your dog to various distractions.
Does a large dog require a stronger correction?
Large dogs don't always require a stronger static correction from the wireless fence. Some are more sensitive than others and will react positively even to the slightest nick. However, there are also stubborn canines that will try to defy the highest correction setting.
Again, it boils down to the personality of your dog. Most of the time, stubborn dogs can be trained away from going past the barrier. They just require more patience, time, and dedication from their owners.
Will a big dog become aggressive when corrected with static charge?
Wireless dog fences aren't known to cause aggression in dogs. Most of the time, canines that exhibit aggression when put on a wireless fence already have behavioral problems. Intensive training is required here to curb the aggressive tendencies of the dog.
However, if your dog only exhibited aggressive behavior after training on a wireless fence, you might be using a very high correction level. Toning it down a little bit could help stop the dog's negative reaction.
Aside from that, aggression due to wireless fences might be due to how you utilized them. Punishing and hurting your dog for going past the boundary isn't the best way to implement an invisible fence. You should always use positive reinforcement like treats and affection instead.
How long will a big dog get used to a wireless fence?
The amount of time a dog learns how to use a wireless fence varies on every dog canine. Some dogs can learn the boundaries in just two to three weeks. However, other canines may take up to 5 months before they finally recognize the limits.
Patience is important here, especially if you're training a stubborn dog. You should keep the training sessions short at around 10 minutes to prevent frustrating your dog. Also, it's best to end each training session while your dog is still in a good mood.
Conclusion
The best wireless dog fence for large dogs will prevent your big canine from escaping your yard. It's an excellent solution for escape artists and Houdini dogs that can get past every physical containment imaginable.
However, make sure that the fence system has the right collar size, correction level, and features that match your dog's needs. Most of all, it should provide the best bang for the buck in terms of reliability and overall performance.
Remember that proper training is necessary for any wireless fence to succeed. You can enlist the help of a professional if you're finding it hard to train your large dog.
Written By