Oster vs Andis Dog Clippers: Which One Should I Use On My Pet?
Andis and Oster are the two biggest names when it comes to pet grooming tools. In this post, I will discuss an Oster vs Andis dog clippers face-off to help you choose which one is best for your pet.
Both these brands make durable and functional hair clippers for pets. It comes in different models sporting various features and cutting abilities.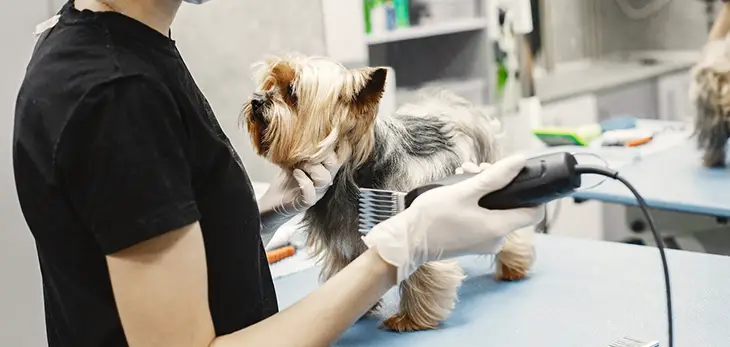 As a dog owner for years now, I have tried multiple clippers from both Andis and Oster. Most are excellent tools, though they have major differences, which can be a make-or-break factor for some.
Below, I discussed these two brands, their clipper features, and added points to help you pick the best one for your doggo.
About Andis dog clippers
Andis has been making grooming tools since 1922. The brand has been around for 100 years, making them one of the leaders in pet grooming tools and accessories.
Andis has a variety of pet clippers on their roster and they also sell replacement parts to pair their products. Their pet clippers are available in cheap at-home models and professional groomer options.
Also, Andis is a popular brand for many pet owners. Aside from clippers, Andis also makes curling irons and blow dryers for humans.
Moreover, Andis offers a wide option in terms of price, which we will discuss below.
About Oster dog clippers
Two years after Andis was established, the Oster brand was born in 1924 under the name John Oster Manufacturing Company.
Unlike Andis, Oster has a massive product line outside grooming tools. They focus on making kitchen appliances like blenders, mixers, ovens, and so on.
As for their clippers, the models are mostly designed for professional and commercial use. This also means a steeper price tag for most options, which was discussed below.
Oster vs Andis pet clippers comparison
Are you wondering which makes the best clipper between Andis and Oster? Below is a quick preview of what they have to offer:
1. Model options
In terms of model options, both Andis and Oster have a wide range to boast. They both have clipper options for both dogs and horses.
Aside from that, Andis has many cordless clipper options if you're looking for a hassle-free tool. For example, their Pulse series packs a lot of punch despite its cordless design.
Meanwhile, they also have corded options to compete with Oster. The UltraEdge series is made for groomers who have to deal with the largest and hairiest dog.
As for Oster, professional groomers are up for a treat. This brand produces rugged and high-quality clippers suitable for dog and equine purposes.
For cordless picks, they have the Oster Professional series. Meanwhile, the Oster Classic is unbeatable if you want a workhorse for your professional pet grooming business.
2. Motor power
In terms of the clipper motor, Oster tends to use electromagnetic and pivot motors. Meanwhile, most of the Andis dog clippers I've tried use the traditional rotary motor.
So what's the difference, you ask? Let me discuss it below.
Electromagnetic motors like the one used on the Oster Classic 76 have a clacking noise as opposed to the whirring noise of rotary types. The biggest benefit of this motor type is the higher strokes per minute, which is beneficial if you like a fast blade speed.
Meanwhile, the pivot motor used on the Oster Fast Feed has a lower blade speed. However, the upside is that this motor is twice more powerful than its electromagnetic counterparts.
Meanwhile, rotary motors are used on the likes of Andis Easy Clip Versa and Andis AGC series. This motor has equal blade speed and power, not to mention that it usually provides variable speed options.
So which one is better? All of these motor types that Oster and Andis use are functional, but the choice depends on your dog's grooming needs.
If you're grooming a dog with matted and thick hair, a rotary motor would be a champ. An electromagnetic motor also works, but it's usually used by professionals since it's prone to pulling if not used with the right technique.
In the end, it's a matter of preference and which one you find more suitable for your pet.
3. Blade and precision
When it comes to precision, both Andis and Oster have something to offer.
Specifically, Oster makes professional-grade clippers. This means that the blades are insanely sharp, which can be risky for DIY pet grooming.
If you're just aiming for DIY, home-grooming precision, I think the safest option is a clipper from Andis. And if you're a professional pet groomer, your best bet is an option from Oster.
4. Physical build
When it comes to physical characteristics, Oster pet clippers are substantially heavier than Andis models. It's because Oster models are robust and made for intense clipping purposes.
Aside from that, Oster pet clippers also have some heft to their size, which weigh around 1.5 lbs. Nevertheless, the brand has the Oster® A6® Slim™, which only weighs 0.81 lbs.
On the other hand, Andis has lighter options. Even the corded UltraEdge series only weighs around 1.1 lbs. while the compact Andis Pro Clip ION is super lightweight at just 0.3 lbs.
However, the trade-off here is often the build quality. In my experience, Andis uses more plastic to keep its dog clippers light.
Nevertheless, if you take good care of the tool, it can last for years of use.
5. Warranty terms
Both Oster and Andis provide a one-year warranty for all their clipper products. This covers defects in material and workmanship.
So if you're the one who damaged the product, it won't be covered by the warranty terms. And if you wish to send a defective product back to Oster or Andis, you'll have to shoulder the shipping fee.
Overall, both brands offer pretty much the same guarantee for their products. In my opinion, both can also compete in terms of quality and build, so I think this warranty is just right for its price.
6. Maintenance needs
To be fair, all dog clippers need some form of maintenance at some point. Blades need to be oiled and some parts need to be replaced once it reaches the end of their lifespan.
But when it comes to maintenance level, Andis tend to require more attention. Nevertheless, some Oster models like the Oster 76 Classic needs more maintenance than other options from the brand.
In general, powerful dog clippers tend to require more upkeep since their motor and blade are subjected to more wear and tear. It's a reasonable trade-off if you're looking for high-performance models.
7. Noise level
When it comes to noise level, Oster models tend to be quieter than those from Andis. However, this all boils down to the amount of power the clipper uses.
Take note that it's normal for high-powered pet clippers to produce more noise. After all, its motor is working under heavy loads, which translates to higher heat formation and increased noise.
Also, most corded dog clippers tend to be noisier than cordless types. This applies across brands, not just Andis or Oster.
8. Price range
As for the price range, Andis has an upper hand when it comes to affordable options. You can find an Andis dog trimmer for as low as $18.
However, their top-of-the-line offers can be pretty steep. Some of their top-shelf models are the Andis Pulse ZR, Andis AG series, and Andis UltraEdge.
Meanwhile, those who are planning to purchase an Oster dog clipper should prepare their pockets. Since these clippers are intended for professional use, buyers should expect to pay at least $50 to $80.
Take note that Oster has premium models as well. The Oster Power Pro and Oster Octane are just some of their expensive offerings.
Top 3 Oster Dog Clippers
For professional groomers looking for a trusty clipper, the Oster Clipmaster won't disappoint. This corded workhorse has a rotary motor that produces up to 2,100 strokes per minute.
Moreover, it has a chew-proof housing, perfect if you're grooming large and rowdy doggos. It's also engineered to deal with matted and thick animal coats.
Paired with the brand's CryogenX blade, this clipper has exceptional durability even on busy days in the grooming shop. You'll also receive grooming oil to keep the blades in perfect shape.
The Oster Professional Fast Feed Pet Clipper is a cordless tool equipped with a pivot motor. It's also designed with adaptive speed control that automatically adjusts the settings for dense coats.
It sports a 12-foot-long cord for charging and a charging stand for your convenience. For every charge, you'll get up to 90 minutes of grooming.
Aside from that, this tool comes with a stainless steel blade that can be adjusted from #10 to #30. It's ergonomic, sleek, and made for comfortable use.
Those who have the budget to splurge should consider the Oster Power Pro. This pet clipper is equipped with a rotary motor that can deliver up to 3,300 strokes per minute.
Moreover, it has Oster's proprietary CryogenX blade paired with the AgION antimicrobial coating. Simply clean the blade with mild soap and water for maintenance.
Overall, this is a lightweight and cordless animal clipper, which also comes with a charging stand. Professional groomers will surely get a lot of value from this Oster clipper, especially those grooming large dogs with thick coats.
Top 3 Andis Dog Clippers
The Andis AGC Animal Clipper comes with a 14-foot attached cord for easy movement while grooming dogs. It also has shatter-proof housing, perfect for busy grooming shops.
Aside from that, this clipper has a rotary motor that runs at 120 volts. It's perfect for almost all canine coats and breeds, even those that are heavily matted.
The blade of this clipper is detachable, so you can use a variety of blades to match the coat of the dog you're grooming. It will also turn off automatically once you removed the blade.
If you're looking for the right balance between price and value, the Andis UltraEdge is a great choice. This corded dog clipper provides 3,400 to 4,400 strokes per minute on its two-speed design.
Moreover, this is equipped with a rotary motor that delivers stable performance even on matted coats. The clipper itself has some heft to it, but it's not too cumbersome for most users.
Overall, Andis UltraEdge delivers professional-quality cuts for a fraction of the price. Its handle is also ergonomic for long grooming tasks.
If you're looking for a cheaper clipper for your pet, the Andis EasyClip is a pocket-friendly pick. It's a corded type suitable for all-around touch-ups and clipping of short coats.
Also, this comes with accessories, including six blade guards, a blade cover, blade oil, and a brush. For this price range, this is already a neat kit to start DIY dog grooming.
While this isn't a professional quality clipper, it delivers excellent performance for at-home use.
Conclusion
I hope that this Oster vs Andis comparison helped you choose which tool is best for your dog's coat. Both brands have excellent clipper options, though each one matches a specific purpose.
On my part, Andis works well for home grooming while Oster is often reserved for professionals. But if you have the budget, you can try your hand at Oster's premium options as well.
What do you think of these two brands? Have you tried any of their clippers before? Let me know about your experience!
Written By